2020 YORKVILLE TORONTO CONDO MARKET RECAP REPORT
SOLD PRICES PER SQUARE FOOT & UNIT SALES HISTORY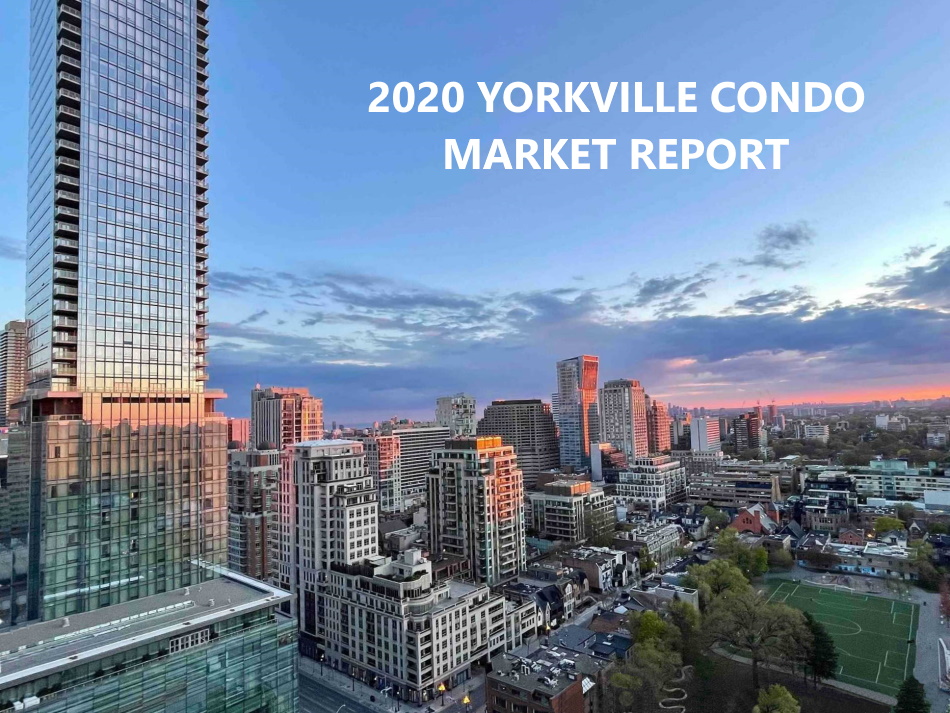 2020 Yorkville Condo Market Unit Sales Statistics By Quarter
| 2020 Yorkville Condo Sales By Quarter | 4th Q | 3rd Q | 2nd Q | 1st Q |
| --- | --- | --- | --- | --- |
| Average Sold Price/Sq Ft | $1,243 | $1,402 | $1,252 | $1,390 |
| | | | | |
| Average Sale Price | $1,046,937 | $1,736,068 | $1,155,188 | $1,387,815 |
| | | | | |
| Number Of Units Sold | 84 | 50 | 80 | 100 |
| | | | | |
| Number Of Days On Market | 35 | 24 | 35 | 34 |

2020 Yorkville Condo Unit Sales Historical Sold Data By Building Address
Building Address

MLS Listing
Sold Price

Sold Date

Type

Bedrooms

Den

Baths

Exposure

Balcony

Parking

Square
Feet

155 Yorkville Ave

$670,000

12-31-2020

Condo Apt

1

1

1

Se

None

0

580

65 St Mary St

$828,888

12-30-2020

Condo Apt

1

1

1

W

Open

0

648

1121 Bay St

$613,000

12-28-2020

Condo Apt

2

1

E

Open

0

640

175 Cumberland St

$925,000

12-23-2020

Condo Apt

1

1

N

None

1

1149

1 Bloor St East

$860,000

12-23-2020

Condo Apt

2

2

N

Open

0

793

38 Avenue Rd

$959,000

12-22-2020

Condo Apt

1

1

Nw

Jlte

1

760

1080 Bay St

$650,000

12-21-2020

Condo Apt

1

1

E

Open

0

542

1 Yorkville Ave

$700,000

12-21-2020

Condo Apt

1

1

1

N

Open

0

549

825 Church St

$698,000

12-20-2020

Condo Apt

1

1

1

S

Open

1

643

18 Yorkville Ave

$1,160,000

12-18-2020

Condo Apt

2

2

Ne

Open

1

805

1080 Bay St

$718,000

12-18-2020

Condo Apt

1

1

Nw

Open

1

512

65 St Mary St

$731,000

12-18-2020

Condo Apt

1

1

1

N

Open

0

592

1 Bloor St East

$720,000

12-17-2020

Condo Apt

1

1

E

Open

0

535

1 Bloor St East

$968,900

12-17-2020

Condo Apt

2

2

Ne

Open

1

812

88 Cumberland St

$1,365,000

12-16-2020

Condo Apt

2

2

Se

Open

1

904

1 Bedford Rd

$1,175,000

12-15-2020

Condo Apt

2

2

N

Open

1

946

18 Yorkville Ave

$679,500

12-15-2020

Condo Apt

1

1

1

W

Open

0

618

1121 Bay St

$605,000

12-15-2020

Condo Apt

2

1

Se

Open

1

640

3 Mcalpine St

$805,000

12-15-2020

Condo Apt

2

2

E

None

1

996

18 Yorkville Ave

$940,000

12-14-2020

Condo Apt

2

2

Se

Open

1

732

1121 Bay St

$560,000

12-14-2020

Condo Apt

1

1

E

Open

1

525

155 Yorkville Ave

$520,000

12-14-2020

Condo Apt

1

1

E

Terr

0

405

980 Yonge St

$1,150,000

12-10-2020

Condo Apt

2

2

Se

Open

1

1135

1 Bloor St East

$870,000

12-09-2020

Condo Apt

1

1

2

W

Open

0

719

88 Cumberland St

$1,510,000

12-09-2020

Condo Apt

2

2

Nw

Open

1

905

155 Yorkville Ave

$475,000

12-09-2020

Condo Apt

0

1

S

None

0

370

1 Yorkville Ave

$735,000

12-08-2020

Condo Apt

1

1

1

N

Encl

0

549

18 Yorkville Ave

$544,500

12-07-2020

Condo Apt

1

1

S

Open

0

474

102 Bloor St West

$592,000

12-04-2020

Condo Apt

1

1

1

N

None

0

680

155 Yorkville Ave

$690,000

12-02-2020

Condo Apt

1

1

1

Nw

None

1

610

32 Davenport Rd

$855,000

12-01-2020

Condo Apt

2

2

E

Open

1

766

1080 Bay St

$689,900

11-28-2020

Condo Apt

1

1

Nw

Open

1

512

181 Davenport Rd

$1,650,000

11-28-2020

Condo Apt

2

1

2

N

Terr

1

1227

32 Davenport Rd

$570,000

11-27-2020

Condo Apt

1

1

E

Open

0

551

128 Pears Ave

$819,000

11-27-2020

Condo Apt

1

1

N

Open

1

690

1121 Bay St

$515,000

11-25-2020

Condo Apt

1

1

E

Open

0

525

8 Scollard St

$645,000

11-22-2020

Condo Apt

1

1

1

Ne

Open

1

723

188 Cumberland St

$575,000

11-22-2020

Condo Apt

1

1

S

None

0

470

1 Yorkville Ave

$620,000

11-21-2020

Condo Apt

1

1

N

Open

0

451

55 Scollard St

$2,150,000

11-18-2020

Condo Apt

2

2

Sw

Open

1

1265

88 Cumberland St

$785,000

11-18-2020

Condo Apt

1

1

1

S

Open

0

667

128 Pears Ave

$1,624,000

11-16-2020

Condo Apt

2

1

2

N

Open

1

1180

18 Yorkville Ave

$2,685,000

11-14-2020

Condo Apt

2

1

3

Se

Open

2

1969

32 Davenport Rd

$402,000

11-13-2020

Condo Apt

0

1

W

Open

0

383

188 Cumberland St

$520,000

11-13-2020

Condo Apt

1

1

S

None

0

405

1080 Bay St

$1,008,000

11-12-2020

Condo Apt

2

2

Ne

Open

1

896

188 Cumberland St

$600,000

11-11-2020

Condo Apt

1

1

Ne

None

0

505

99 Avenue Rd

$780,000

11-10-2020

Condo Apt

1

1

1

W

Open

1

714

15 Mcmurrich St

$892,000

11-10-2020

Condo Apt

2

3

S

Open

1

1318

170 Avenue Rd

$1,125,000

11-10-2020

Condo Apt

2

2

Sw

Open

1

872

1 Bedford Rd

$1,502,000

11-09-2020

Condo Apt

2

2

W

Open

1

1050

32 Davenport Rd

$880,000

11-06-2020

Condo Apt

2

2

Sw

Open

1

825

18 Yorkville Ave

$712,500

11-06-2020

Condo Apt

1

1

2

W

Open

1

713

1 Bloor St East

$689,000

11-06-2020

Condo Apt

1

1

E

Open

0

535

188 Cumberland St

$495,000

11-06-2020

Condo Apt

1

1

N

None

0

385

1080 Bay St

$1,925,000

11-05-2020

Condo Apt

2

1

2

Se

Open

2

1477

77 Mcmurrich St

$785,000

11-04-2020

Condo Apt

1

1

2

Sw

Open

1

806

88 Cumberland St

$760,000

11-02-2020

Condo Apt

1

1

1

N

Open

0

667

88 Cumberland St

$700,000

11-02-2020

Condo Apt

1

1

N

Open

0

569

188 Cumberland St

$593,000

11-01-2020

Condo Apt

1

1

Ne

None

0

505

1 Bedford Rd

$850,000

10-29-2020

Condo Apt

1

1

1

W

Open

1

711

1 Bloor St East

$995,000

10-29-2020

Condo Apt

1

1

2

S

Open

0

744

18 Yorkville Ave

$667,000

10-27-2020

Condo Apt

1

1

N

Open

1

496

4 Lowther Ave

$1,170,000

10-23-2020

Condo Apt

1

1

E

None

1

1108

155 Yorkville Ave

$499,000

10-22-2020

Condo Apt

0

1

S

Terr

0

370

825 Church St

$932,500

10-21-2020

Condo Apt

2

1

2

E

Open

1

827

32 Davenport Rd

$900,000

10-20-2020

Condo Apt

2

2

Sw

Open

1

825

825 Church St

$875,000

10-20-2020

Condo Apt

2

2

Sw

Open

1

847

128 Pears Ave

$3,200,000

10-20-2020

Condo Apt

2

1

3

Ns

Open

1

2088

1 Bedford Rd

$1,450,000

10-16-2020

Condo Apt

2

1

2

Sw

Terr

1

1051

1 St Thomas St

$2,823,000

10-14-2020

Condo Apt

2

3

Ne

Terr

1

1653

80 Cumberland St

$1,290,000

10-14-2020

Condo Apt

2

3

Sw

Terr

1

1164

1 Bloor St East

$699,000

10-13-2020

Condo Apt

1

1

1

N

Open

0

607

1 Bloor St East

$915,000

10-13-2020

Condo Apt

1

1

2

N

Open

0

744

155 Yorkville Ave

$905,000

10-13-2020

Condo Apt

2

2

N

None

1

750

65 St Mary St

$1,213,000

10-11-2020

Condo Apt

2

2

Se

Open

1

896

77 Mcmurrich St

$2,375,000

10-09-2020

Condo Apt

2

2

3

Sw

Terr

2

2238

38 Avenue Rd

$900,000

10-08-2020

Condo Apt

1

1

Nw

Jlte

1

755

80 Yorkville Ave

$2,985,000

10-08-2020

Condo Apt

2

2

Ne

Open

2

1570

8 Sultan St

$1,550,000

10-06-2020

Condo Apt

2

2

Nw

Open

1

1444

80 Cumberland St

$2,175,000

10-03-2020

Condo Apt

2

3

Nw

Open

1

1557

40 Scollard St

$599,999

10-02-2020

Condo Apt

1

1

S

None

1

645

3 Mcalpine St

$740,000

10-02-2020

Condo Apt

1

1

1

N

None

1

748

1 St Thomas St

$4,265,000

10-01-2020

Condo Apt

2

1

3

Se

Terr

2

2497

164 Cumberland Ave

$1,510,000

09-30-2020

Condo Apt

2

1

2

S

None

1

1539

1080 Bay St

$641,000

09-28-2020

Condo Apt

0

1

1

S

Open

0

442

77 Charles St West

$3,690,000

09-25-2020

Condo Apt

2

3

Se

Open

2

1969

825 Church St

$1,064,000

09-23-2020

Condo Apt

2

1

2

Se

Open

1

998

15 Mcmurrich St

$869,900

09-21-2020

Condo Apt

2

2

E

None

1

1523

170 Avenue Rd

$670,000

09-21-2020

Condo Apt

1

1

W

None

1

486

170 Avenue Rd

$7,000,000

09-21-2020

Condo Apt

3

4

Se

Terr

3

3007

38 Avenue Rd

$5,595,000

09-20-2020

Condo Apt

3

1

3

W

Terr

2

2820

38 Avenue Rd

$3,295,000

09-19-2020

Condo Apt

2

1

3

Nw

Open

2

2270

1 Bloor St East

$1,485,000

09-18-2020

Condo Apt

2

1

2

Se

Open

1

1033

8 Scollard St

$523,000

09-17-2020

Condo Apt

1

1

N

Open

0

530

1166 Bay St

$1,900,000

09-17-2020

Condo Apt

2

1

2

Ew

None

2

2005

175 Cumberland St

$2,388,000

09-16-2020

Condo Apt

2

2

E

None

1

1990

1121 Bay St

$500,000

09-16-2020

Condo Apt

1

1

W

Open

0

495

206 Bloor St West

$4,550,000

09-16-2020

Condo Apt

3

3

S

Terr

2

2540

170 Avenue Rd

$1,340,000

09-11-2020

Condo Apt

2

2

S

Open

1

1001

1 Bloor St East

$962,500

09-11-2020

Condo Apt

1

1

2

N

Open

0

744

88 Cumberland St

$2,208,000

09-11-2020

Condo Apt

2

2

Se

Terr

2

1128

980 Yonge St

$1,098,000

09-10-2020

Condo Apt

2

2

Ne

Open

0

1275

65 St Mary St

$695,000

09-09-2020

Condo Apt

1

1

E

Open

0

542

188 Cumberland St

$1,050,000

09-07-2020

Condo Apt

2

1

2

Sw

Jlte

0

840

1166 Bay St

$2,550,000

09-06-2020

Condo Apt

3

2

W

None

2

2194

188 Cumberland St

$1,080,000

09-04-2020

Condo Apt

2

1

2

Se

Jlte

1

855

50 Yorkville Ave

$7,100,000

09-02-2020

Condo Apt

2

1

3

Nw

Open

2

2874

65 St Mary St

$743,000

09-02-2020

Condo Apt

1

1

E

Open

1

542

155 Yorkville Ave

$520,000

09-02-2020

Condo Apt

1

1

Ne

None

0

405

1 Bloor St East

$828,000

08-27-2020

Condo Apt

1

1

1

S

Open

0

607

181 Davenport Rd

$1,675,000

08-27-2020

Condo Apt

2

1

2

Nw

Terr

1

1247

80 Cumberland St

$770,000

08-25-2020

Condo Apt

1

1

2

N

Open

1

839

175 Cumberland St

$1,470,000

08-22-2020

Condo Apt

1

2

S

None

1

1260

40 Scollard St

$555,000

08-19-2020

Condo Apt

1

2

1

N

Encl

0

645

3 Mcalpine St

$1,100,000

08-19-2020

Condo Apt

2

2

E

Jlte

1

1193

88 Cumberland St

$1,297,000

08-19-2020

Condo Apt

2

2

Sw

Open

1

875

181 Davenport Rd

$939,000

08-19-2020

Condo Apt

1

1

1

N

Open

1

624

980 Yonge St

$1,110,000

08-18-2020

Condo Apt

2

2

Se

Open

1

1275

50 Yorkville Ave

$4,150,000

08-14-2020

Condo Apt

2

3

Ne

Open

2

1956

1080 Bay St

$528,000

08-14-2020

Condo Apt

0

1

W

Open

0

325

980 Yonge St

$652,500

08-13-2020

Condo Apt

1

1

Nw

Open

0

695

88 Cumberland St

$975,000

08-11-2020

Condo Apt

2

2

N

Open

0

750

88 Cumberland St

$720,000

08-09-2020

Condo Apt

1

1

W

Open

0

508

155 Yorkville Ave

$860,000

08-09-2020

Condo Apt

2

2

N

None

1

750

1 Bedford Rd

$937,500

08-08-2020

Condo Apt

1

1

W

Open

1

650

110 Bloor St West

$2,245,000

08-07-2020

Condo Apt

2

3

N

None

1

2570

77 Mcmurrich St

$760,000

08-07-2020

Condo Apt

1

1

1

S

Open

1

732

65 St Mary St

$1,875,000

08-07-2020

Condo Apt

2

1

2

Se

Open

2

1477

825 Church St

$1,050,000

08-06-2020

Condo Apt

2

1

2

Se

Open

1

998

38 Avenue Rd

$2,340,000

08-06-2020

Condo Apt

2

3

Sw

Open

1

1595

77 Avenue Rd

$3,050,000

08-06-2020

Condo Apt

2

3

W

Terr

2

2560

1121 Bay St

$1,190,000

08-04-2020

Condo Apt

3

2

W

Open

1

1020

8 Scollard St

$699,000

08-01-2020

Condo Apt

1

1

2

S

Jlte

1

734

155 Yorkville Ave

$655,000

07-31-2020

Condo Apt

1

1

1

N

None

0

550

8 Scollard St

$530,000

07-30-2020

Condo Apt

1

1

N

Open

0

530

206 Bloor St West

$2,200,000

07-30-2020

Condo Apt

2

2

Nw

Open

2

1605

99 Avenue Rd

$910,000

07-29-2020

Condo Apt

1

1

2

W

Terr

1

714

65 St. Mary St

$697,000

07-29-2020

Condo Apt

1

1

Ne

Open

0

512

88 Cumberland St

$725,000

07-29-2020

Condo Apt

1

1

W

Open

0

542

88 Cumberland St

$740,000

07-29-2020

Condo Apt

1

1

1

E

Open

0

564

8 Scollard St

$660,000

07-28-2020

Condo Apt

1

1

2

S

Open

1

637

200 Bloor St West

$710,000

07-28-2020

Condo Apt

1

1

N

Open

0

506

32 Davenport Rd

$828,000

07-27-2020

Condo Apt

1

1

1

S

Open

1

782

1 Bloor St East

$822,500

07-27-2020

Condo Apt

1

1

1

S

Open

0

612

155 Yorkville Ave

$500,000

07-26-2020

Condo Apt

0

1

Sw

None

0

370

1 Bedford Rd

$1,350,000

07-25-2020

Condo Apt

2

1

2

S

Terr

1

1051

1 Bedford Rd

$1,395,000

07-24-2020

Condo Apt

2

1

2

W

Open

1

1122

65 St Mary St

$711,000

07-23-2020

Condo Apt

1

1

E

Open

0

542

32 Davenport Rd

$476,001

07-22-2020

Condo Apt

0

1

1

W

Open

0

383

155 Yorkville Ave

$5,500,000

07-22-2020

Condo Apt

4

5

Ne

Terr

3

4580

175 Cumberland St

$2,110,000

07-19-2020

Condo Apt

2

3

E

None

0

1685

65 St Mary St

$490,000

07-16-2020

Condo Apt

0

1

E

Open

0

325

825 Church St

$774,000

07-15-2020

Condo Apt

1

1

Ne

Open

0

682

1080 Bay St

$827,000

07-13-2020

Condo Apt

1

1

1

W

Open

0

648

55 Scollard St

$2,150,000

07-10-2020

Condo Apt

2

2

Sw

Open

1

1265

1 Bloor St East

$789,998

07-10-2020

Condo Apt

1

1

E

Open

0

535

200 Bloor St West

$1,265,000

07-10-2020

Condo Apt

2

2

Se

Open

1

912

1 Bloor St East

$945,000

07-09-2020

Condo Apt

2

1

2

W

Open

0

928

1080 Bay St

$634,000

07-09-2020

Condo Apt

0

1

1

W

Open

0

442

980 Yonge St

$792,000

07-08-2020

Condo Apt

1

1

N

Terr

1

760

181 Davenport Rd

$930,000

07-07-2020

Condo Apt

2

2

N

None

1

790

99 Avenue Rd

$793,000

07-06-2020

Condo Apt

1

1

2

W

Terr

1

714

65 St Mary St

$1,292,000

07-06-2020

Condo Apt

2

2

Nw

Open

1

892

65 St Mary St

$935,000

07-05-2020

Condo Apt

1

1

1

W

Open

1

648

1 Bloor St East

$1,230,000

07-03-2020

Condo Apt

2

1

2

Sw

Open

1

899

65 St Mary St

$855,000

07-03-2020

Condo Apt

1

1

1

S

Open

0

611

3 Mcalpine St

$3,000,000

07-02-2020

Condo Apt

3

1

4

Sw

Terr

2

3610

40 Scollard St

$705,000

07-01-2020

Condo Apt

1

1

1

S

None

0

645

175 Cumberland St

$1,507,000

06-29-2020

Condo Apt

2

2

Ne

None

1

1694

155 Yorkville Ave

$572,000

06-25-2020

Condo Apt

1

1

S

None

0

430

8 Scollard St

$605,000

06-24-2020

Condo Apt

1

1

1

N

Open

0

630

1080 Bay St

$740,000

06-24-2020

Condo Apt

1

1

E

Open

0

542

181 Davenport Rd

$910,000

06-24-2020

Condo Apt

1

1

1

N

None

1

755

128 Pears Ave

$2,700,000

06-24-2020

Condo Apt

3

1

3

S

Open

1

1916

1 Bedford Rd

$1,089,743

06-23-2020

Condo Apt

2

2

N

Open

1

849

1 Bloor St East

$760,000

06-23-2020

Condo Apt

1

1

E

Open

0

535

128 Pears Ave

$899,000

06-23-2020

Condo Apt

1

1

1

N

Open

0

713

32 Davenport Rd

$577,500

06-22-2020

Condo Apt

1

1

E

Open

0

470

200 Bloor St West

$850,000

06-19-2020

Condo Apt

1

1

2

Ne

Open

1

791

155 Yorkville Ave

$527,500

06-18-2020

Condo Apt

0

1

S

None

0

370

32 Davenport Rd

$1,040,500

06-17-2020

Condo Apt

2

1

2

Ne

Open

1

905

88 Cumberland St

$1,100,000

06-17-2020

Condo Apt

2

2

W

Open

0

683

1 Bloor St East

$1,080,000

06-16-2020

Condo Apt

1

1

2

S

Open

1

744

77 Avenue Rd

$2,500,000

06-12-2020

Condo Apt

2

1

3

W

Terr

2

2775

77 Avenue Rd

$1,555,000

06-11-2020

Condo Apt

2

2

E

Open

2

1475

1121 Bay St

$615,000

06-11-2020

Condo Apt

1

1

1

N

Open

0

590

32 Davenport Rd

$881,000

06-10-2020

Condo Apt

2

2

E

Open

1

780

980 Yonge St

$1,040,000

06-09-2020

Condo Apt

2

2

Sw

Open

1

1039

200 Bloor St West

$1,375,000

06-09-2020

Condo Apt

2

1

2

S

Open

1

856

128 Pears Ave

$3,500,000

06-08-2020

Condo Apt

3

4

Se

Open

1

2156

32 Davenport Rd

$723,000

06-05-2020

Condo Apt

1

1

1

E

Open

0

659

980 Yonge St

$1,075,000

06-03-2020

Condo Apt

2

2

Se

Open

1

1135

155 Yorkville Ave

$580,000

06-03-2020

Condo Apt

1

1

N

None

0

405

4 Lowther Ave

$2,620,000

06-02-2020

Condo Apt

2

1

3

W

Terr

1

2065

155 Yorkville Ave

$1,200,000

05-31-2020

Condo Apt

2

2

Sw

None

1

1015

170 Avenue Rd

$956,000

05-30-2020

Condo Apt

2

2

N

Open

1

789

65 St Mary St

$699,000

05-24-2020

Condo Apt

1

1

Ne

Open

0

512

1 Bloor St East

$920,000

05-23-2020

Condo Apt

1

1

2

N

Open

0

744

155 Yorkville Ave

$575,000

05-21-2020

Condo Apt

1

1

E

None

0

405

170 Avenue Rd

$2,450,000

05-19-2020

Condo Apt

2

1

3

Se

Open

2

1974

65 St Mary St

$1,000,000

05-19-2020

Condo Apt

2

1

W

Open

1

736

188 Cumberland St

$538,000

05-13-2020

Condo Apt

1

1

S

None

0

400

1 Bloor St East

$1,540,000

05-06-2020

Condo Apt

2

2

Se

Open

1

1033

170 Avenue Rd

$651,500

05-03-2020

Condo Apt

1

1

W

None

0

486

50 Yorkville Ave

$3,900,000

05-02-2020

Condo Apt

2

3

Nw

Open

2

1956

1 Bloor St East

$985,800

05-01-2020

Condo Apt

1

1

2

N

Open

0

744

1080 Bay St

$520,000

05-01-2020

Condo Apt

0

1

W

Open

0

325

1080 Bay St

$530,000

04-22-2020

Condo Apt

0

1

W

Open

0

325

1 Bloor St East

$770,000

04-17-2020

Condo Apt

1

1

E

Open

0

535

1 Bloor St East

$1,090,000

04-13-2020

Condo Apt

2

2

Sw

Open

1

817

32 Davenport Rd

$865,000

04-09-2020

Condo Apt

2

2

E

Open

1

780

65 St Mary St

$926,000

04-03-2020

Condo Apt

1

1

1

S

Open

1

611

77 Avenue Rd

$950,000

04-01-2020

Condo Apt

1

1

2

W

None

1

1065

1 St Thomas St

$1,999,999

03-28-2020

Condo Apt

1

2

Ne

Terr

2

1246

825 Church St

$775,000

03-26-2020

Condo Apt

1

1

N

Open

0

682

65 St Mary St

$550,000

03-26-2020

Condo Apt

0

1

E

Open

0

325

825 Church St

$870,000

03-23-2020

Condo Apt

2

2

N

Open

0

843

77 Mcmurrich St

$720,000

2020-03-23

Condo Apt

1

1

S

Open

1

691

32 Davenport Rd

$765,000

03-20-2020

Condo Apt

1

1

1

E

Open

1

634

825 Church St

$927,000

03-20-2020

Condo Apt

2

2

Sw

Open

1

910

77 Charles St West

$9,000,000

03-19-2020

Condo Apt

2

4

Sw

Open

4

3821

825 Church St

$890,000

03-18-2020

Condo Apt

2

1

2

Nw

Open

1

802

1080 Bay St

$1,125,000

03-17-2020

Condo Apt

2

2

Se

Open

1

896

155 Yorkville Ave

$719,900

03-17-2020

Condo Apt

1

1

1

Se

None

0

580

825 Church St

$717,500

03-16-2020

Condo Apt

1

1

1

Ne

Open

1

682

155 Yorkville Ave

$540,000

03-16-2020

Condo Apt

0

1

S

None

0

370

200 Bloor St West

$1,810,000

03-15-2020

Condo Apt

2

2

S

Open

1

1068

65 St Mary St

$963,000

03-14-2020

Condo Apt

1

1

1

S

Open

1

611

155 Yorkville Ave

$615,000

03-14-2020

Condo Apt

1

1

S

None

0

440

980 Yonge St

$660,000

03-12-2020

Condo Apt

1

1

S

Open

1

715

1 Bloor St East

$1,088,900

03-12-2020

Condo Apt

1

1

2

S

Open

1

744

155 Yorkville Ave

$595,000

03-12-2020

Condo Apt

1

1

S

None

0

440

200 Bloor St West

$888,888

03-09-2020

Condo Apt

1

1

2

Nw

Open

1

756

155 Yorkville Ave

$615,000

03-09-2020

Condo Apt

1

1

E

None

0

405

825 Church St

$920,000

03-08-2020

Condo Apt

2

1

2

Nw

Open

1

802

825 Church St

$835,000

03-06-2020

Condo Apt

2

2

S

Open

1

797

1 Bloor St East

$1,490,000

03-05-2020

Condo Apt

2

2

Se

Open

1

1033

1080 Bay St

$760,000

03-04-2020

Condo Apt

1

1

E

Open

0

542

1 Bedford Rd

$2,775,000

03-03-2020

Condo Apt

2

3

Sw

Open

1

1521

1331 Bay St

$1,100,000

02-28-2020

Condo Apt

2

2

Nw

Open

1

1235

18 Yorkville Ave

$690,000

02-28-2020

Condo Apt

1

1

N

Open

0

496

1166 Bay St

$3,200,000

02-28-2020

Condo Apt

3

2

E

None

2

2210

1 Bloor St East

$1,458,800

02-28-2020

Condo Apt

2

2

Nw

Open

1

1038

1121 Bay St

$1,028,000

02-26-2020

Condo Apt

2

2

Nw

Open

1

935

825 Church St

$925,000

02-25-2020

Condo Apt

1

1

1

Ne

Open

1

682

102 Bloor St West

$828,000

02-25-2020

Condo Apt

1

1

N

None

0

864

1080 Bay St

$926,000

02-25-2020

Condo Apt

1

1

1

W

Open

1

648

200 Bloor St West

$1,268,000

02-25-2020

Condo Apt

2

2

Sw

Open

1

912

65 St Mary St

$1,118,000

02-23-2020

Condo Apt

2

2

E

Open

1

820

8 Sultan St

$1,598,000

02-22-2020

Condo Apt

2

2

Se

Open

1

1436

1 Bloor St East

$1,680,000

02-21-2020

Condo Apt

2

1

2

Se

Open

1

1033

55 Scollard St

$1,585,000

02-20-2020

Condo Apt

1

2

Nw

Open

1

1157

1 Bedford Rd

$3,001,000

02-20-2020

Condo Apt

2

1

3

Ne

Open

2

1664

8 Scollard St

$485,000

02-20-2020

Condo Apt

0

1

S

Open

0

457

1166 Bay St

$2,275,000

02-20-2020

Condo Apt

2

2

Ew

None

1

2005

1 Bloor St East

$1,080,000

02-19-2020

Condo Apt

2

2

Nw

Open

1

798

1 Bloor St East

$1,170,000

02-19-2020

Condo Apt

2

2

Sw

Open

1

817

155 Yorkville Ave

$654,000

02-19-2020

Condo Apt

1

1

N

None

0

500

155 Yorkville Ave

$628,000

02-18-2020

Condo Apt

1

1

1

N

None

0

500

32 Davenport Rd

$790,000

02-16-2020

Condo Apt

1

1

1

E

Open

1

782

18 Yorkville Ave

$665,800

02-15-2020

Condo Apt

1

0

1

S

Open

0

471

980 Yonge St

$1,100,000

02-15-2020

Condo Apt

2

2

Sw

Open

1

1134

206 Bloor St West

$3,600,000

02-15-2020

Condo Apt

2

3

S

Terr

2

2206

36 Hazelton Ave

$4,100,000

02-13-2020

Condo Apt

2

1

3

E

Terr

2

2186

1166 Bay St

$2,075,000

02-13-2020

Condo Apt

2

2

Ew

None

2

2005

55 Scollard St

$1,325,000

02-12-2020

Condo Apt

1

2

Ne

Open

1

1100

32 Davenport Rd

$950,000

02-12-2020

Condo Apt

2

1

2

Ne

Open

1

905

825 Church St

$715,000

02-12-2020

Condo Apt

1

1

1

E

Open

1

707

15 Mcmurrich St

$1,076,500

02-12-2020

Condo Apt

2

3

S

Terr

1

1329

1 Bloor St East

$815,000

02-12-2020

Condo Apt

1

1

1

N

Open

0

612

65 St Mary St

$839,500

02-12-2020

Condo Apt

1

1

1

N

Open

1

592

155 Yorkville Ave

$528,000

02-12-2020

Condo Apt

0

1

N

None

0

370

50 Yorkville Ave

$6,200,000

02-10-2020

Condo Apt

2

1

3

Ne

Open

2

2570

18 Yorkville Ave

$1,090,000

02-09-2020

Condo Apt

2

2

Ne

Open

1

805

1 Bloor St East

$950,000

02-07-2020

Condo Apt

1

1

2

Ne

Open

0

744

65 St Mary St

$1,058,000

02-07-2020

Condo Apt

2

2

E

Open

1

820

80 Yorkville Ave

$6,800,000

02-07-2020

Condo Apt

2

1

3

Sw

Open

3

3765

1 Bloor St East

$1,680,000

02-05-2020

Condo Apt

2

1

2

E

Open

1

1065

155 Yorkville Ave

$560,888

02-03-2020

Condo Apt

1

1

Sw

None

0

405

155 Yorkville Ave

$555,000

02-02-2020

Condo Apt

1

1

E

None

0

405

55 Scollard St

$1,175,000

02-01-2020

Condo Apt

1

1

N

None

1

680

825 Church St

$1,200,000

02-01-2020

Condo Apt

3

2

Se

Open

1

998

1080 Bay St

$1,180,000

02-01-2020

Condo Apt

2

2

Ne

Open

1

820

155 Yorkville Ave

$560,000

01-30-2020

Condo Apt

1

1

E

None

0

405

128 Pears Ave

$1,445,000

01-29-2020

Condo Apt

1

2

S

Open

1

995

1 Bloor St East

$1,068,000

01-28-2020

Condo Apt

1

1

2

S

Open

1

744

1080 Bay St

$690,000

01-28-2020

Condo Apt

1

1

Nw

Open

0

512

10 Bellair St

$3,408,000

01-28-2020

Condo Apt

3

3

Se

Open

2

2849

155 Yorkville Ave

$590,000

01-28-2020

Condo Apt

1

1

E

None

0

405

32 Davenport Rd

$888,888

01-27-2020

Condo Apt

2

2

E

Open

1

780

155 Yorkville Ave

$685,000

01-26-2020

Condo Apt

1

1

1

N

None

0

550

1166 Bay St

$1,875,000

01-23-2020

Condo Apt

2

2

E

None

1

2210

15 Mcmurrich St

$1,281,000

01-23-2020

Condo Apt

2

3

W

Open

1

1330

1 Bloor St East

$1,050,888

01-23-2020

Condo Apt

2

2

Nw

Open

1

798

15 Mcmurrich St

$672,000

01-20-2020

Condo Apt

2

1

S

None

1

1308

1080 Bay St

$745,000

01-20-2020

Condo Apt

1

1

E

Open

1

542

200 Bloor St West

$1,755,000

01-20-2020

Condo Apt

2

1

2

S

Open

1

1068

50 Yorkville Ave

$3,850,000

01-19-2020

Condo Apt

2

3

Ne

Open

2

1956

1 Bloor St East

$2,260,000

01-18-2020

Condo Apt

2

1

3

Se

Open

2

1405

181 Davenport Rd

$880,000

01-18-2020

Condo Apt

1

1

1

N

Open

1

630

825 Church St

$865,000

01-16-2020

Condo Apt

2

1

2

Ne

Open

1

862

38 Avenue Rd

$3,188,000

01-15-2020

Condo Apt

3

1

4

Ew

Open

1

2310

188 Cumberland St

$560,000

01-15-2020

Condo Apt

1

1

S

None

0

400

200 Bloor St West

$820,000

01-15-2020

Condo Apt

1

1

2

Nw

Open

1

744

1121 Bay St

$729,000

01-13-2020

Condo Apt

2

1

Sw

Open

1

765

1121 Bay St

$550,000

01-12-2020

Condo Apt

1

1

E

None

0

475

1 Bloor St East

$886,000

01-10-2020

Condo Apt

1

1

2

W

Open

1

719

65 St Mary St

$748,000

01-10-2020

Condo Apt

1

1

1

N

Open

0

592

1 Bloor St East

$1,928,000

01-09-2020

Condo Apt

2

1

3

W

Terr

2

1656

155 Yorkville Ave

$550,000

01-08-2020

Condo Apt

0

1

S

None

0

370

133 Hazelton Ave

$929,000

01-05-2020

Condo Apt

1

1

N

None

1

732

38 Avenue Rd

$1,098,000

01-02-2020

Condo Apt

1

2

E

None

1

960

155 Yorkville Ave

$885,000

01-01-2020

Condo Apt

2

2

N

None

1

750
See the latest SOLD PRICE PER SQUARE FOOT and SALES STATS for Yorkville Condos

Yorkville's Top Ten Luxury Condo Buildings

Find Out More About Yorkville LUXURY Penthouse & Condo Sales

See MLS LISTINGS for Yorkville & Downtown Toronto condos currently FOR SALE

See Map Of Yorkville Annex Condominiums Curently Available For Sale
See the most comprehensive GUIDE to Yorkville Toronto Condos
See Yorkville Toronto Condo Buildings With 3 Bedroom Suites & Penthouses
See Yorkville Condos Luxury Boutique Buildings Of Under 50 Suites
See Yorkville Toronto Condos Pet Friendly Buildings

Moving On? Divorce & Buying Or Selling Your Yorkville Condo

Renting Vs Buying A Toronto Condo. Which is the better option?

The Truth About Downsizing To A Yorkville Toronto Condo

New Or Resale? Buying & Investment Opportunities In Yorkville & Toronto's Condo Market
Moving To Yorkville? Find Out More About The Toronto Neighbourhood Where Uptown Meets Downtown
Buying A Yorkville Toronto Condo? What you need to know before you buy in Yorkville
The History of the Village of Yorkville
Read about buying a condo in Toronto and TAXES that may apply

Buying A Toronto Condo? Find out how much Land Transfer Tax you will have to pay
Toronto Condo Checklist What you need to ask BEFORE you buy
See the latest Yorkville Toronto New Condos Currently Under Construction
See the latest Yorkville Toronto Pre Construction Condos
See the latest condo projects Planned & Proposed for Yorkville Toronto
Investing in New & Pre-construction Condos in Yorkville & Downtown Toronto? How to get the Maximum Return On Investment
Buying a NEW CONSTRUCTION condo in Yorkville? What you need to know BEFORE you visit the sales office
Live Outside Canada? Foreign Buyers Guide To Purchasing Real Estate In Toronto
Valuable Advice For Buyers From The United States Purchasing Real Estate In Toronto Canada
Questions about Yorkville Toronto condos?
Thinking Of Selling Your Yorkville Luxury Condo? Contact Victoria
There is always a healthy supply of condominium units available for sale in the Yorkville area. However, the best suites - the preferred units with the best floor plans and the best views in the best buildings sell right away. These top valued condos sell within days and if you want the opportunity ...