2022 YORKVILLE TORONTO CONDO MARKET RECAP REPORT
SOLD PRICES PER SQUARE FOOT & UNIT SALES HISTORY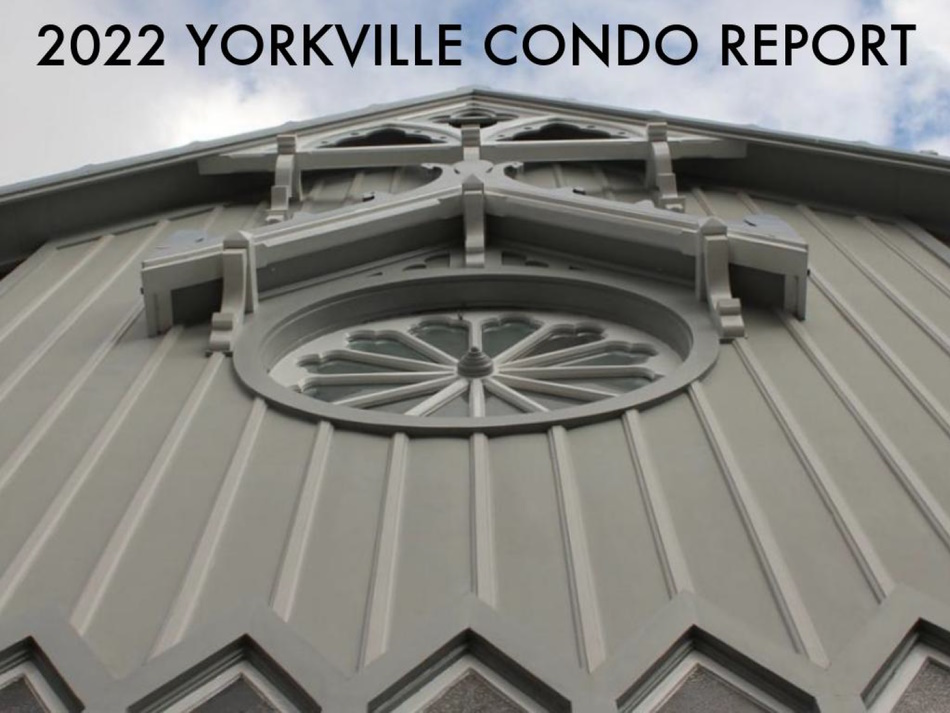 2022 vs 2021 & 2020 Comparison
Yorkville Condo Unit Sales Stats By Year
| YEAR | 2022 | 2021 | 2020 |
| --- | --- | --- | --- |
| Average Sold Price/Sq Ft | $1,398 | $1,365 | $1,325 |
| | | | |
| Average Sold Price | $1,429,970 | $1,367,079 | $1,292,811 |
| | | | |
| Number Of Units Sold | 313 | 469 | 314 |
| | | | |
| Average Days On Market | 25 | 29 | 33 |

2022 Yorkville Condo Market Unit Sales Statistics By Quarter
| | | | | |
| --- | --- | --- | --- | --- |
| QUARTER | 2022 4th Q | 2022 3rd Q | 2022 2nd Q | 2022 1st Q |
| Average Sold Price/Sq Ft | $1,244 | $1,451 | $1,343 | $1,458 |
| | | | | |
| Average Sold Price | $1,383,556 | $1,347,959 | $1,406,025 | $1,516,215 |
| | | | | |
| Number Of Units Sold | 34 | 76 | 88 | 115 |
| | | | | |
| Average Days On Market | 30 | 30 | 26 | 21 |

2022 Yorkville Condo Unit Sales
Historical Sold Data By Building Address Reported On The MLS
Building Address

Listing
Sold Price

Sold Date

Type

Bedrooms

Den

Baths

Exposure

Balcony

Parking

Square
Feet

1 Bloor St East

$780,000

12-31-2022

Condo Apt

1

1

E

Open

0

530

65 St Mary St

$1,100,000

12-28-2022

Condo Apt

2

1

W

Terr

1

736

825 Church St

$978,000

12-23-2022

Condo Apt

2

1

2

Nw

Terr

1

802

40 Scollard St

$659,900

12-22-2022

Condo Apt

1

1

S

None

1

645

55 Scollard St

$1,300,000

12-22-2022

Condo Apt

1

2

W

None

1

950

38 Avenue Rd

$2,600,000

12-21-2022

Condo Apt

2

3

Ew

Open

2

1940

1 Bloor St East

$1,090,000

12-20-2022

Condo Apt

2

2

Sw

Open

1

817

175 Cumberland St

$4,025,000

12-20-2022

Condo Apt

2

1

3

S

None

2

3020

55 Prince Arthur Ave

$1,667,000

12-16-2022

Condo Apt

2

3

E

None

2

2073

1 Bloor St East

$1,025,000

12-10-2022

Condo Apt

2

2

Nw

Open

0

798

155 Yorkville Ave

$720,000

12-08-2022

Condo Apt

1

1

1

Se

None

0

580

825 Church St

$1,249,000

12-08-2022

Condo Apt

2

1

2

Se

Open

1

998

32 Davenport Rd

$1,100,000

12-02-2022

Condo Apt

2

1

2

Se

Terr

1

931

18 Yorkville Ave

$1,025,000

12-01-2022

Condo Apt

2

2

Sw

Open

1

755

1 Yorkville Ave

$785,000

11-30-2022

Condo Apt

1

1

1

W

Open

0

577

32 Davenport Rd

$640,000

11-28-2022

Condo Apt

1

1

Nw

Open

0

555

65 St Mary St

$1,300,000

11-25-2022

Condo Apt

2

2

Se

Open

0

896

1 Bloor St East

$1,020,000

11-22-2022

Condo Apt

2

0

2

Ne

Terr

1

812

65 St Mary St

$1,438,000

11-19-2022

Condo Apt

2

2

Se

Open

1

896

200 Cumberland St

$2,570,000

11-17-2022

Condo Apt

2

1

3

Se

Open

1

1315

1 Bloor St East

$1,380,000

11-16-2022

Condo Apt

2

1

2

S

Open

1

1130

15 Mcmurrich St

$1,075,000

11-08-2022

Condo Apt

2

1

2

Sw

Open

1

1612

825 Church St

$1,200,000

11-08-2022

Condo Apt

2

2

Se

Open

1

998

133 Hazelton Ave

$3,900,000

11-08-2022

Condo Apt

2

3

Sw

Terr

2

2101

88 Cumberland St

$1,350,000

10-29-2022

Condo Apt

2

2

Nw

Open

1

905

1 Yorkville Ave

$965,000

10-28-2022

Condo Apt

2

2

Sw

Open

1

688

35 Balmuto St

$710,000

10-22-2022

Condo Apt

1

1

1

W

Open

0

715

170 Avenue Rd

$615,000

10-20-2022

Condo Apt

1

1

W

None

0

486

1166 Bay St

$1,775,000

10-19-2022

Condo Apt

2

1

2

W

None

2

2194

88 Davenport Rd

$1,479,000

10-18-2022

Condo Apt

2

2

S

Open

1

1147

188 Cumberland St

$1,245,000

10-07-2022

Condo Apt

2

1

2

Sw

Jlte

1

840

10 Bellair St

$2,610,000

10-07-2022

Condo Apt

2

3

Ne

Open

2

2249

155 Yorkville Ave

$666,000

10-06-2022

Condo Apt

1

1

1

Sw

None

0

580

15 Mcmurrich St

$850,000

10-05-2022

Condo Apt

2

3

W

Open

1

1330

181 Davenport Rd

$929,000

10-05-2022

Condo Apt

1

1

1

N

None

1

753

980 Yonge St

$885,000

09-28-2022

Condo Apt

1

1

1

W

Open

1

1015

151 Avenue Rd

$1,150,000

09-28-2022

Condo Apt

2

1

2

E

Open

1

927

88 Davenport Rd

$2,900,000

09-28-2022

Condo Apt

2

1

3

Ne

Terr

2

1949

38 Avenue Rd

$1,400,000

09-21-2022

Condo Apt

1

2

E

Open

1

930

4 Lowther Ave

$2,375,000

09-21-2022

Condo Apt

2

1

3

E

None

1

1882

32 Davenport Rd

$775,000

09-20-2022

Condo Apt

1

1

1

E

Terr

0

634

188 Cumberland St

$735,000

09-20-2022

Condo Apt

1

1

1

W

None

0

505

36 Hazelton Ave

$6,660,000

09-20-2022

Condo Apt

2

3

E

Terr

2

3131

88 Cumberland St

$1,380,000

09-19-2022

Condo Apt

2

2

Ne

Open

1

950

188 Cumberland St

$1,372,500

09-15-2022

Condo Apt

2

1

2

Sw

Jlte

1

840

38 Avenue Rd

$1,995,000

09-15-2022

Condo Apt

2

3

Se

Jlte

1

1360

155 Yorkville Ave

$485,000

09-14-2022

Condo Apt

0

1

S

None

0

370

155 Yorkville Ave

$518,000

09-14-2022

Condo Apt

0

1

Nw

None

0

370

50 Yorkville Ave

$6,400,000

09-13-2022

Condo Apt

2

1

3

Nw

Open

2

2874

155 Yorkville Ave

$583,000

09-09-2022

Condo Apt

1

1

S

None

0

440

55 Scollard St

$2,080,000

09-09-2022

Condo Apt

2

2

Sw

Open

1

1265

155 Yorkville Ave

$599,000

09-07-2022

Condo Apt

1

1

W

None

0

405

1 Bloor St East

$800,000

09-07-2022

Condo Apt

1

1

E

Open

0

535

188 Cumberland St

$1,330,000

09-07-2022

Condo Apt

2

2

Se

Jlte

1

855

80 Cumberland St

$1,399,800

09-06-2022

Condo Apt

2

3

S

Open

1

1092

155 Yorkville Ave

$612,000

09-01-2022

Condo Apt

1

1

W

None

0

405

200 Bloor St West

$1,350,000

09-01-2022

Condo Apt

2

2

S

Terr

1

964

188 Cumberland St

$748,000

08-31-2022

Condo Apt

1

1

Ne

None

0

505

825 Church St

$765,000

08-30-2022

Condo Apt

1

1

1

Ne

Open

0

682

15 Mcmurrich St

$760,000

08-29-2022

Condo Apt

1

1

3

S

Terr

1

1367

980 Yonge St

$675,000

08-26-2022

Condo Apt

1

1

S

Terr

0

715

825 Church St

$820,000

08-26-2022

Condo Apt

1

1

1

S

Open

0

648

1 Yorkville Ave

$815,000

08-26-2022

Condo Apt

1

1

2

S

Open

0

557

128 Hazelton Ave

$6,075,000

08-25-2022

Condo Apt

3

1

4

Se

Terr

2

3294

1 Bloor St East

$1,040,000

08-24-2022

Condo Apt

1

1

2

S

Open

1

744

980 Yonge St

$939,000

08-23-2022

Condo Apt

1

1

W

Open

1

925

980 Yonge St

$889,000

08-22-2022

Condo Apt

2

2

Sw

Open

1

1134

38 Avenue Rd

$2,525,000

08-22-2022

Condo Apt

2

3

Se

Encl

2

1845

900 Yonge St

$1,299,000

08-21-2022

Condo Apt

2

2

W

None

1

1731

155 Yorkville Ave

$659,000

08-20-2022

Condo Apt

1

1

1

Sw

None

0

580

155 Yorkville Ave

$599,800

08-18-2022

Condo Apt

1

1

S

None

0

405

32 Davenport Rd

$748,000

08-18-2022

Condo Apt

1

1

E

Open

0

634

1 Bloor St East

$1,198,000

08-18-2022

Condo Apt

2

2

Ne

Open

1

812

155 Yorkville Ave

$583,000

08-17-2022

Condo Apt

1

0

1

W

Encl

0

405

170 Avenue Rd

$740,000

08-17-2022

Condo Apt

1

1

E

Open

0

566

32 Davenport Rd

$925,000

08-16-2022

Condo Apt

2

2

E

Open

1

780

102 Bloor St West

$1,240,000

08-16-2022

Condo Apt

2

2

N

None

0

1183

155 Yorkville Ave

$2,800,000

08-13-2022

Condo Apt

2

2

Sw

None

1

1710

88 Cumberland St

$758,000

08-12-2022

Condo Apt

1

1

1

S

Jlte

0

605

80 Yorkville Ave

$3,000,000

08-11-2022

Condo Apt

2

3

Nw

Open

1

1710

80 Cumberland St

$950,000

08-09-2022

Condo Apt

1

1

2

N

Open

1

839

88 Cumberland St

$1,400,000

08-04-2022

Condo Apt

2

2

Nw

Open

1

905

1 Yorkville Ave

$840,000

07-27-2022

Condo Apt

1

1

1

E

Open

0

556

1 Yorkville Ave

$1,300,000

07-25-2022

Condo Apt

2

1

2

Ne

Jlte

1

813

825 Church St

$770,000

07-24-2022

Condo Apt

1

1

1

Ne

Open

1

707

155 Yorkville Ave

$629,000

07-23-2022

Condo Apt

1

1

1

N

None

0

550

980 Yonge St

$950,000

07-19-2022

Condo Apt

1

1

Ew

Terr

1

885

1166 Bay St

$1,995,000

07-18-2022

Condo Apt

3

2

E

None

2

2223

1 Yorkville Ave

$935,000

07-16-2022

Condo Apt

2

2

Sw

Open

0

688

50 Yorkville Ave

$4,738,000

07-12-2022

Condo Apt

2

3

Ne

Open

4

1956

155 Yorkville Ave

$590,000

07-08-2022

Condo Apt

1

1

N

None

0

405

77 Mcmurrich St

$720,000

07-07-2022

Condo Apt

2

1

S

Open

1

750

155 Yorkville Ave

$499,000

07-04-2022

Condo Apt

0

1

Sw

None

0

370

188 Cumberland St

$806,800

06-29-2022

Condo Apt

1

1

1

W

None

0

521

151 Avenue Rd

$2,060,000

06-29-2022

Condo Apt

2

2

Se

Open

0

1144

18 Yorkville Ave

$1,055,000

06-26-2022

Condo Apt

2

2

Se

Open

1

732

825 Church St

$680,000

06-24-2022

Condo Apt

1

1

1

S

Open

0

660

1 Bloor St East

$935,000

06-24-2022

Condo Apt

1

1

1

S

Open

0

612

155 Yorkville Ave

$595,000

06-23-2022

Condo Apt

1

1

W

None

0

405

32 Davenport Rd

$955,000

06-20-2022

Condo Apt

2

2

E

Open

1

801

10 Bellair St

$1,025,000

06-17-2022

Condo Apt

1

1

1

E

Jlte

1

863

32 Davenport Rd

$1,155,000

06-17-2022

Condo Apt

2

1

2

Se

Open

1

944

32 Davenport Rd

$750,000

06-11-2022

Condo Apt

1

1

1

E

Open

0

659

200 Bloor St West

$1,010,000

06-08-2022

Condo Apt

1

1

2

N

Open

0

798

1 Yorkville Ave

$792,000

06-06-2022

Condo Apt

1

1

2

S

Open

0

557

15 Mcmurrich St

$846,000

06-06-2022

Condo Apt

2

2

S

None

1

1607

32 Davenport Rd

$950,000

06-06-2022

Condo Apt

2

1

2

Ne

Open

1

856

80 Cumberland St

$1,400,000

06-06-2022

Condo Apt

2

3

S

Open

1

1216

128 Pears Ave

$1,670,000

06-03-2022

Condo Apt

2

2

Se

Open

1

1228

900 Yonge St

$2,100,000

06-03-2022

Condo Apt

2

1

2

W

Terr

2

2012

1 Yorkville Ave

$1,894,000

06-02-2022

Condo Apt

2

2

Se

Open

1

1245

980 Yonge St

$899,000

05-31-2022

Condo Apt

2

2

Ne

Open

1

1275

1 Bloor St East

$905,000

05-30-2022

Condo Apt

1

1

1

S

Open

0

607

825 Church St

$850,000

05-30-2022

Condo Apt

2

1

2

Nw

Open

0

802

1 Bloor St East

$1,050,000

05-29-2022

Condo Apt

1

1

2

W

Terr

1

724

155 Yorkville Ave

$1,300,000

05-29-2022

Condo Apt

2

2

Sw

None

1

1015

18 Yorkville Ave

$620,000

05-26-2022

Condo Apt

1

1

S

Open

0

474

1 Yorkville Ave

$768,000

05-25-2022

Condo Apt

1

1

W

Open

0

475

18 Yorkville Ave

$890,000

05-24-2022

Condo Apt

1

1

1

W

Open

1

622

88 Cumberland St

$1,688,000

05-24-2022

Condo Apt

2

3

Sw

Open

1

1062

32 Davenport Rd

$1,040,000

05-22-2022

Condo Apt

1

2

Sw

Open

2

825

155 Yorkville Ave

$485,000

05-19-2022

Condo Apt

0

1

S

None

0

370

825 Church St

$1,112,000

05-19-2022

Condo Apt

2

1

2

Se

Open

1

998

99 Avenue Rd

$1,250,000

05-19-2022

Condo Apt

2

2

W

Open

2

1056

825 Church St

$1,475,000

05-19-2022

Condo Apt

2

1

2

Se

Terr

1

1041

68 Yorkville Ave

$1,747,500

05-18-2022

Condo Apt

2

1

2

E

Open

2

1395

34 Mcmurrich St

$1,420,000

05-17-2022

Townhouse

2

2

S

Terr

1

1467

1 Bedford Rd

$3,025,000

05-16-2022

Condo Apt

2

1

3

Nw

Terr

1

1799

155 Yorkville Ave

$660,000

05-12-2022

Condo Apt

1

1

1

Se

None

0

580

3 Mcalpine St

$880,000

05-12-2022

Condo Apt

1

1

2

E

Jlte

1

898

55 Scollard St

$1,270,000

05-10-2022

Condo Apt

1

1

Sw

Open

1

734

1 Yorkville Ave

$810,000

05-07-2022

Condo Apt

1

1

2

S

Open

0

557

1 St Thomas St

$7,980,000

05-05-2022

Townhouse

3

5

S

Terr

2

4185

77 Mcmurrich St

$690,000

05-04-2022

Condo Apt

1

1

S

Open

1

612

1 Yorkville Ave

$815,000

05-03-2022

Condo Apt

1

1

2

S

Open

0

557

980 Yonge St

$745,000

05-02-2022

Condo Apt

1

1

S

Encl

1

715

77 Mcmurrich St

$1,160,000

05-02-2022

Condo Apt

1

1

2

W

Terr

1

1005

128 Pears Ave

$975,000

05-01-2022

Condo Apt

1

1

2

N

Open

1

774

155 Yorkville Ave

$750,000

04-30-2022

Condo Apt

1

1

1

Nw

None

0

610

1 Bloor St East

$1,570,000

04-30-2022

Condo Apt

2

1

3

Ne

Terr

1

1046

980 Yonge St

$817,000

04-29-2022

Condo Apt

1

1

1

E

Open

1

800

32 Davenport Rd

$850,000

04-29-2022

Condo Apt

1

1

1

E

Open

1

634

1166 Bay St

$3,100,000

04-29-2022

Condo Apt

3

2

W

None

2

2194

1 Yorkville Ave

$2,680,000

04-27-2022

Condo Apt

2

1

3

Se

Open

1

1369

980 Yonge St

$1,160,000

04-26-2022

Condo Apt

2

2

Se

Open

1

1135

1 Bedford Rd

$1,900,000

04-26-2022

Condo Apt

2

2

W

Open

1

1050

1 Bedford Rd

$930,000

04-25-2022

Condo Apt

1

1

N

Open

1

652

175 Cumberland St

$1,945,000

04-23-2022

Condo Apt

2

2

Nw

None

0

1623

1 Yorkville Ave

$833,000

04-21-2022

Condo Apt

1

1

2

S

Open

0

557

188 Cumberland St

$760,000

04-20-2022

Condo Apt

1

1

Nw

None

0

505

18 Yorkville Ave

$3,600,000

04-19-2022

Condo Apt

2

1

2

Se

Open

2

1969

825 Church St

$850,000

04-17-2022

Condo Apt

1

1

1

S

Open

1

648

1 Yorkville Ave

$870,000

04-16-2022

Condo Apt

1

1

1

E

Open

0

567

32 Davenport Rd

$1,788,000

04-16-2022

Townhouse

2

1

3

E

Open

1

1428

825 Church St

$967,000

04-14-2022

Condo Apt

2

1

2

Nw

Open

1

802

77 Mcmurrich St

$1,680,000

04-14-2022

Condo Apt

2

1

2

Se

Terr

2

1525

1 Bedford Rd

$5,000,000

04-13-2022

Condo Apt

2

1

2

Sw

Open

2

2200

35 Balmuto St

$915,000

04-12-2022

Condo Apt

2

2

Sw

Open

1

853

900 Yonge St

$1,350,000

04-12-2022

Condo Apt

2

2

W

None

1

1731

35 Balmuto St

$1,545,000

04-12-2022

Condo Apt

2

1

3

Nw

Open

1

1270

1 Yorkville Ave

$833,000

04-11-2022

Condo Apt

1

1

2

S

Open

0

557

1 Bloor St East

$937,000

04-10-2022

Condo Apt

1

1

E

Open

0

535

1 Yorkville Ave

$876,000

04-09-2022

Condo Apt

1

1

1

N

Open

0

549

32 Davenport Rd

$1,075,000

04-08-2022

Condo Apt

2

2

E

Open

1

766

170 Avenue Rd

$1,720,000

04-08-2022

Condo Apt

2

2

Ne

Open

1

1211

15 Mcmurrich St

$880,000

04-07-2022

Condo Apt

2

1

2

Sw

None

2

1607

825 Church St

$1,450,000

04-05-2022

Condo Apt

3

2

Sw

Open

1

1155

1132 Bay St

$1,940,000

04-05-2022

Condo Apt

2

1

3

S

None

1

2100

80 Cumberland St

$2,075,000

04-05-2022

Condo Apt

2

3

Nw

Open

1

1557

68 Yorkville Ave

$2,250,000

04-04-2022

Condo Apt

2

1

2

Ns

Terr

2

1570

3 Mcalpine St

$635,000

04-01-2022

Condo Apt

1

1

1

N

None

0

748

155 Yorkville Ave

$635,000

03-31-2022

Condo Apt

1

1

1

S

None

0

430

980 Yonge St

$705,000

03-31-2022

Condo Apt

1

1

S

None

0

760

32 Davenport Rd

$950,000

03-30-2022

Condo Apt

2

1

2

E

Open

0

833

188 Cumberland St

$675,000

03-29-2022

Condo Apt

1

1

S

None

0

470

155 Yorkville Ave

$996,000

03-29-2022

Condo Apt

2

2

N

None

1

750

8 Scollard St

$460,000

03-28-2022

Condo Apt

0

1

N

Jlte

0

497

1 Yorkville Ave

$799,888

03-28-2022

Condo Apt

1

1

W

Open

0

475

38 Avenue Rd

$2,835,000

03-25-2022

Condo Apt

2

1

3

Ew

Open

2

1930

170 Avenue Rd

$1,120,000

03-23-2022

Condo Apt

2

2

N

Open

1

789

18 Yorkville Ave

$850,000

03-22-2022

Condo Apt

1

1

1

W

Open

1

636

18 Yorkville Ave

$710,000

03-22-2022

Condo Apt

1

1

S

Open

1

471

102 Bloor St West

$1,370,000

03-20-2022

Condo Apt

2

1

2

S

None

0

1235

1 Yorkville Ave

$1,400,000

03-20-2022

Condo Apt

3

2

Ne

Open

1

797

55 Prince Arthur Ave

$2,220,000

03-19-2022

Condo Apt

2

3

N

None

2

1897

1 Bloor St West

$4,241,888

03-18-2022

Condo Apt

3

2

Se

None

0

1499

900 Yonge St

$1,419,000

03-17-2022

Condo Apt

2

1

2

W

Terr

1

1470

980 Yonge St

$825,000

03-17-2022

Condo Apt

1

1

1

N

Open

1

825

35 Balmuto St

$925,000

03-17-2022

Condo Apt

2

1

2

S

Open

1

905

200 Bloor St West

$1,469,000

03-16-2022

Condo Apt

2

2

Se

Open

1

912

1 St Thomas St

$3,200,000

03-16-2022

Condo Apt

2

3

S

Open

2

2020

155 Yorkville Ave

$668,000

03-15-2022

Condo Apt

1

1

W

None

0

405

1 Bloor St East

$1,280,000

03-15-2022

Condo Apt

2

2

Sw

Open

1

817

1 Bloor St West

$7,103,888

03-15-2022

Condo Apt

2

1

3

Se

None

0

2466

1 Yorkville Ave

$1,200,000

03-14-2022

Condo Apt

2

2

Se

Open

1

688

1 Bloor St East

$1,475,000

03-14-2022

Condo Apt

2

1

2

Nw

Open

1

1038

10 Bellair St

$5,400,000

03-13-2022

Condo Apt

2

1

3

Se

Open

2

3837

1 Bloor St East

$1,840,000

03-11-2022

Condo Apt

2

1

2

E

Open

2

1065

155 Yorkville Ave

$650,000

03-10-2022

Condo Apt

1

1

S

None

0

405

38 Avenue Rd

$3,400,000

03-10-2022

Condo Apt

2

2

Ne

Open

2

1845

102 Bloor St West

$905,000

03-09-2022

Condo Apt

1

1

Se

None

0

873

110 Bloor St West

$1,410,000

03-09-2022

Condo Apt

1

1

2

N

None

1

1100

35 Balmuto St

$1,402,000

03-09-2022

Condo Apt

2

2

Se

Terr

1

1251

18 Yorkville Ave

$999,900

03-08-2022

Condo Apt

1

1

1

E

Open

1

701

151 Avenue Rd

$1,025,000

03-08-2022

Condo Apt

1

1

2

E

Open

0

837

18 Yorkville Ave

$830,000

03-04-2022

Condo Apt

1

1

1

E

Open

1

616

980 Yonge St

$845,000

03-04-2022

Condo Apt

1

1

S

Terr

1

715

155 Yorkville Ave

$638,000

03-02-2022

Condo Apt

1

1

S

None

0

440

1 Yorkville Ave

$1,141,000

03-02-2022

Condo Apt

2

2

Se

Open

1

688

175 Cumberland St

$1,303,000

03-02-2022

Condo Apt

1

2

Sw

None

0

1260

155 Yorkville Ave

$636,500

02-28-2022

Condo Apt

1

1

E

None

0

405

88 Davenport Rd

$2,825,000

02-28-2022

Condo Apt

2

2

Se

Open

1

1561

155 Yorkville Ave

$610,000

02-24-2022

Condo Apt

1

1

S

None

0

430

1 Bloor St East

$1,160,000

02-24-2022

Condo Apt

2

2

W

Terr

1

884

55 Scollard St

$1,820,888

02-24-2022

Condo Apt

1

2

Sw

Terr

1

1086

10 Bellair St

$650,000

02-22-2022

Condo Apt

0

1

S

None

0

362

170 Avenue Rd

$890,000

02-22-2022

Condo Apt

1

1

1

S

Open

1

605

80 Cumberland St

$1,308,888

02-22-2022

Condo Apt

2

3

S

Open

1

1054

200 Cumberland St

$6,550,000

02-20-2022

Condo Apt

2

1

3

Se

Terr

3

2400

10 Bellair St

$2,110,000

02-17-2022

Condo Apt

2

2

S

Open

2

1641

128 Hazelton Ave

$6,500,000

02-17-2022

Condo Apt

3

4

Se

Terr

2

3048

32 Davenport Rd

$1,100,000

02-16-2022

Condo Apt

2

2

Sw

Open

1

825

18 Yorkville Ave

$1,746,500

02-16-2022

Condo Apt

2

2

Sw

Open

1

1265

170 Avenue Rd

$752,500

02-15-2022

Condo Apt

1

1

S

Open

1

486

18 Yorkville Ave

$1,220,000

02-15-2022

Condo Apt

2

2

Ne

Open

1

805

155 Yorkville Ave

$550,000

02-14-2022

Condo Apt

0

1

S

None

0

370

1 Bloor St East

$908,000

02-14-2022

Condo Apt

1

1

E

Open

0

530

32 Davenport Rd

$1,097,000

02-12-2022

Condo Apt

2

2

Ne

Open

1

856

980 Yonge St

$1,129,900

02-12-2022

Condo Apt

2

2

E

Open

1

1275

32 Davenport Rd

$1,135,000

02-11-2022

Condo Apt

2

2

Se

Open

1

766

1 Bedford Rd

$3,450,000

02-10-2022

Condo Apt

2

3

Sw

Open

1

1521

21 Scollard St

$705,000

02-09-2022

Condo Apt

1

1

N

Jlte

0

588

32 Davenport Rd

$1,251,000

02-09-2022

Condo Apt

2

2

Se

Open

1

931

1 Bloor St East

$1,122,000

02-09-2022

Condo Apt

2

2

S

Open

0

801

110 Bloor St West

$3,200,000

02-09-2022

Condo Apt

2

3

3

N

None

1

2550

18 Yorkville Ave

$1,788,000

02-07-2022

Condo Apt

2

2

Se

Open

1

1228

8 Scollard St

$800,000

02-04-2022

Condo Apt

1

1

2

S

Jlte

1

734

900 Yonge St

$1,415,000

02-04-2022

Condo Apt

2

2

W

None

2

1731

155 Yorkville Ave

$618,000

02-03-2022

Condo Apt

1

1

W

None

0

405

1 Yorkville Ave

$818,888

02-03-2022

Condo Apt

1

1

E

Open

0

475

151 Avenue Rd

$1,161,000

02-03-2022

Condo Apt

2

2

Sw

Open

1

832

175 Cumberland St

$2,200,000

02-03-2022

Condo Apt

2

2

Se

None

1

1694

15 Mcmurrich St

$1,475,000

02-02-2022

Condo Apt

2

2

Nw

None

1

1630

1 Bloor St East

$1,350,000

02-02-2022

Condo Apt

2

2

W

Open

1

829

980 Yonge St

$805,000

01-31-2022

Condo Apt

1

1

W

Terr

1

925

15 Mcmurrich St

$1,150,000

01-31-2022

Condo Apt

2

3

S

Open

1

1318

133 Hazelton Ave

$1,300,000

01-31-2022

Condo Apt

1

1

N

Open

1

715

1 Bloor St East

$1,598,000

01-28-2022

Condo Apt

2

1

3

Ne

Open

1

1046

38 Avenue Rd

$1,370,000

01-27-2022

Condo Apt

1

2

E

Jlte

1

930

88 Cumberland St

$1,665,999

01-26-2022

Condo Apt

2

3

Sw

Open

1

1055

155 Yorkville Ave

$615,000

01-25-2022

Condo Apt

1

1

N

Terr

0

405

188 Cumberland St

$820,000

01-24-2022

Condo Apt

1

1

1

S

None

0

555

1 Yorkville Ave

$884,500

01-21-2022

Condo Apt

1

1

1

N

Encl

0

549

155 Yorkville Ave

$580,000

01-20-2022

Condo Apt

1

1

Sw

None

0

405

980 Yonge St

$599,900

01-19-2022

Condo Apt

1

1

S

Terr

0

715

164 Cumberland St

$1,425,000

01-18-2022

Condo Apt

2

2

Nw

Terr

0

1691

80 Cumberland St

$1,715,000

01-17-2022

Condo Apt

3

3

Se

Open

1

1309

55 Scollard St

$1,900,000

01-16-2022

Condo Apt

1

1

2

Nw

Open

1

1258

170 Avenue Rd

$1,150,000

01-14-2022

Condo Apt

2

2

S

Open

1

840

8 Scollard St

$516,000

01-10-2022

Condo Apt

0

1

S

Jlte

1

480

102 Bloor St West

$800,000

01-08-2022

Condo Apt

1

1

N

Open

0

864

181 Davenport Rd

$3,500,000

01-07-2022

Condo Apt

3

1

4

Ne

Open

1

2485

1 Bloor St East

$1,878,000

01-05-2022

Condo Apt

2

1

3

W

Terr

2

1630

102 Bloor St West

$925,000

01-04-2022

Condo Apt

1

1

2

Ne

None

0

1010
Victoria Boscariol
is a real estate agent in Toronto Canada with Chestnut Park Real Estate Limited Brokerage. With over 25 years experience, Victoria has been helping people successfully buy and sell condos and houses in Yorkville and downtown Toronto.
As one of Toronto's top luxury real estate agents, Victoria has represented both Buyers and Sellers in many of the best luxury condo buildings in Toronto including:
The Four Seasons Private Residences
,
1 St Thomas,
1 Bedford Rd
,
The Shangri-La, The St. Regis and The Ritz Carlton.

Retaining an expert real estate agent with many years experience in Toronto luxury condo sales can help you find the right condo building that fits your lifestyle and also ensures that you will make a well informed purchase that will appreciate over time.
Contact Victoria

See the latest SOLD PRICE PER SQUARE FOOT and SALES STATS for Yorkville Condos

Yorkville's Top Ten Luxury Condo Buildings

Yorkville's Top 10 Most Expensive Condos CURRENTLY FOR SALE

Toronto's Top 10 Most Expensive Condos CURRENTLY FOR SALE

Find Out More About Yorkville LUXURY Penthouse & Condo Sales

See MLS LISTINGS for Yorkville & Downtown Toronto condos currently FOR SALE

See Map Of Yorkville Annex Condominiums Curently Available For Sale
See the most comprehensive GUIDE to Yorkville Toronto Condos
See Yorkville Toronto Condo Buildings With 3 Bedroom Suites & Penthouses
See Yorkville Condos Luxury Boutique Buildings Of Under 50 Suites
See Yorkville Toronto Condos Pet Friendly Buildings

Moving On? Divorce & Buying Or Selling Your Yorkville Condo

Renting Vs Buying A Toronto Condo. Which is the better option?

The Truth About Downsizing To A Yorkville Toronto Condo

New Or Resale? Buying & Investment Opportunities In Yorkville & Toronto's Condo Market
Moving To Yorkville? Find Out More About The Toronto Neighbourhood Where Uptown Meets Downtown
Buying A Yorkville Toronto Condo? What you need to know before you buy in Yorkville
The History of the Village of Yorkville
Read about buying a condo in Toronto and TAXES that may apply

Buying A Toronto Condo? Find out how much Land Transfer Tax you will have to pay
Toronto Condo Checklist What you need to ask BEFORE you buy
See the latest Yorkville Toronto New Condos Currently Under Construction
See the latest Yorkville Toronto Pre Construction Condos
See the latest condo projects Planned & Proposed for Yorkville Toronto
Investing in New & Pre-construction Condos in Yorkville & Downtown Toronto? How to get the Maximum Return On Investment
Buying a NEW CONSTRUCTION condo in Yorkville? What you need to know BEFORE you visit the sales office
Live Outside Canada? Foreign Buyers Guide To Purchasing Real Estate In Toronto
Valuable Advice For Buyers From The United States Purchasing Real Estate In Toronto Canada
Questions about Yorkville Toronto condos?
Thinking Of Selling Your Yorkville Luxury Condo? Contact Victoria
There is always a healthy supply of condominium units available for sale in the Yorkville area. However, the best suites - the preferred units with the best floor plans and the best views in the best buildings sell right away. These top valued condos sell within days and if you want the opportunity ...