2021 YORKVILLE TORONTO CONDO MARKET RECAP REPORT
SOLD PRICES PER SQUARE FOOT & UNIT SALES HISTORY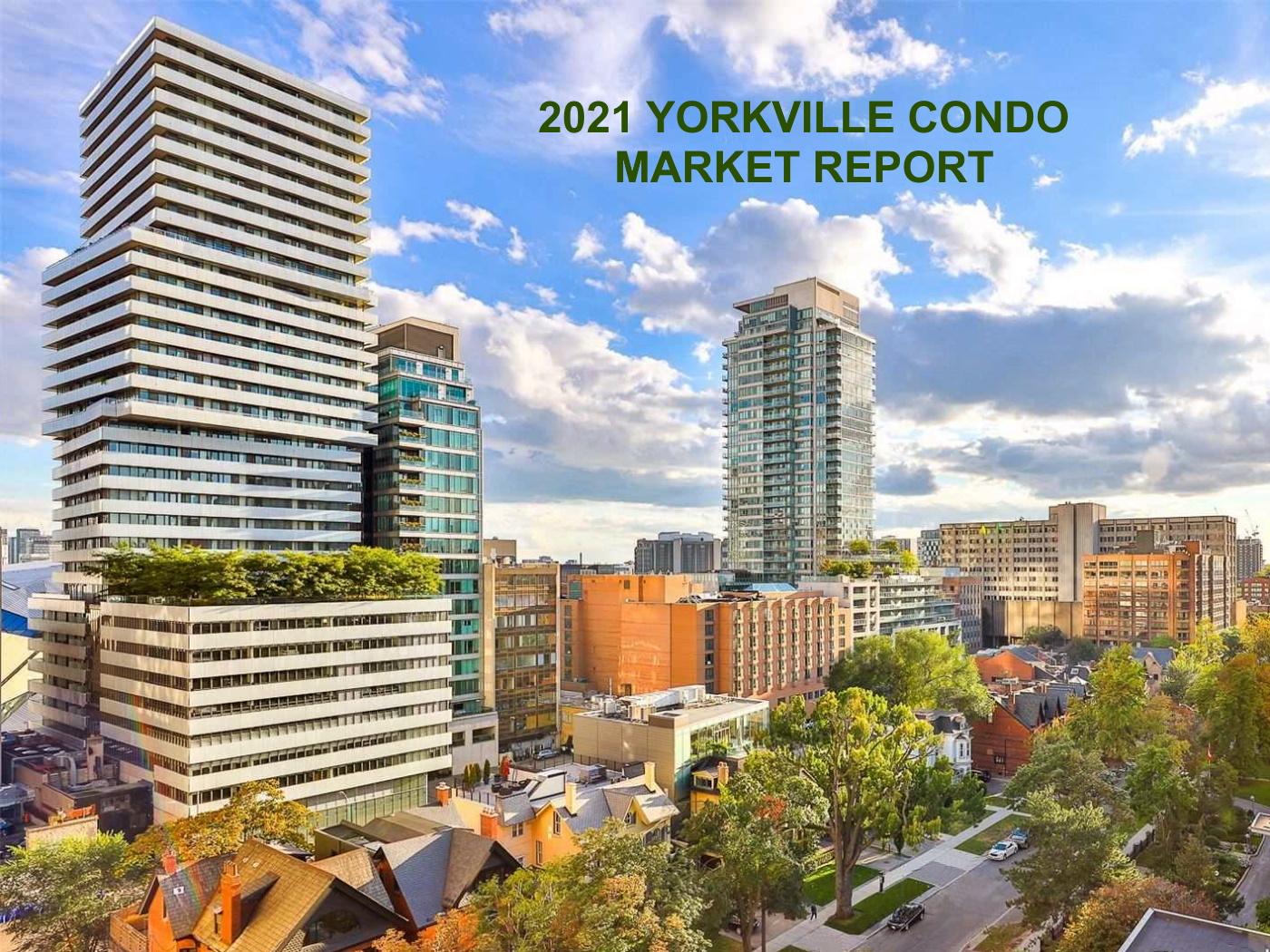 2021 Yorkville Condo Sales Stats Summary
Average Sold Price/Sq Ft $1,365
Average Selling Price $1,367,079
Total Number Of Units Sold 469
Average Number Of Days On Market 29

Each quarter of 2021 saw a steady climb of increasing prices.
Overall the Average Sale Price for a Yorkville condo was up 5.8% from 2020. The Sold Price/Sq Ft was also up just over 3% from the previous year.

The luxury segment of the Yorkville condo market saw significant gains in unit sales and sold price/sq ft in 2021. See the Yorkville LUXURY Condo Market Report for 2021.
2021 vs 2020 Comparison
Yorkville Condo Unit Sales Stats By Year
| YEAR | 2021 | 2020 |
| --- | --- | --- |
| Average Sold Price/Sq Ft | $1,365 | $1,325 |
| | | |
| Average Sold Price | $1,367,079 | $1,292,811 |
| | | |
| Number Of Units Sold | 469 | 314 |
| | | |
| Average Days On Market | 29 | 33 |

2021 Yorkville Condo Market Unit Sales Statistics By Quarter
| | | | | |
| --- | --- | --- | --- | --- |
| QUARTER | 2021 4th Q | 2021 3rd Q | 2021 2nd Q | 2021 1st Q |
| Average Sold Price/Sq Ft | $1,427 | $1,388 | $1,355 | $1,260 |
| | | | | |
| Average Sold Price | $1,553,457 | $1,424,167 | $1,252,712 | $1,156,767 |
| | | | | |
| Number Of Units Sold | 138 | 121 | 100 | 109 |
| | | | | |
| Average Days On Market | 25 | 33 | 26 | 35 |

2021 Yorkville Condo Unit Sales
Historical Sold Data By Building Address Reported On The MLS
Building Address

MLS Listing
Sold Price

Sold Date

Type

Bedrooms

Den

Baths

Exposure

Balcony

Parking

Square
Feet

1 Bloor St East

$862,000

12-31-2021

Condo Apt

1

1

E

Open

0

530

1 Bloor St East

$1,105,000

12-30-2021

Condo Apt

1

1

2

N

Open

1

744

200 Cumberland St

$1,917,000

12-29-2021

Condo Apt

1

2

S

Open

1

1000

1 Bloor St East

$1,080,000

12-28-2021

Condo Apt

1

1

2

W

Open

1

719

35 Balmuto St

$709,000

12-27-2021

Condo Apt

1

1

2

Ne

Open

0

828

170 Avenue Rd

$2,675,000

12-23-2021

Condo Apt

2

1

3

Se

Open

2

1974

188 Cumberland St

$745,000

12-22-2021

Condo Apt

1

1

Ne

None

0

505

825 Church St

$780,000

12-21-2021

Condo Apt

1

1

1

Ne

Open

1

742

1 Yorkville Ave

$1,242,000

12-20-2021

Condo Apt

3

2

Nw

Open

1

797

21 Balmuto St

$940,000

12-18-2021

Condo Apt

2

2

Ne

Open

1

644

32 Davenport Rd

$1,540,000

12-17-2021

Townhouse

2

1

3

E

Open

2

1238

1 Bedford Rd

$2,850,000

12-17-2021

Condo Apt

2

3

W

Open

2

1682

155 Yorkville Ave

$584,000

12-16-2021

Condo Apt

1

1

E

None

0

405

825 Church St

$1,095,000

12-16-2021

Condo Apt

2

2

Sw

Open

0

879

155 Yorkville Ave

$580,000

12-15-2021

Condo Apt

1

1

W

Terr

0

425

170 Avenue Rd

$725,107

12-15-2021

Condo Apt

1

1

E

Open

1

557

200 Bloor St West

$1,050,000

12-15-2021

Condo Apt

1

1

2

Ne

Open

1

787

1121 Bay St

$1,060,000

12-15-2021

Condo Apt

2

2

Nw

None

1

1110

18 Yorkville Ave

$1,715,000

12-15-2021

Condo Apt

2

2

Sw

Open

2

1242

77 Mcmurrich St

$1,975,000

12-15-2021

Condo Apt

2

1

3

S

Terr

1

1545

128 Pears Ave

$790,000

12-14-2021

Condo Apt

1

1

N

Open

0

690

1 Bloor St West

$3,992,744

12-10-2021

Condo Apt

2

1

2

Sw

None

0

1502

1 St Thomas St

$5,125,000

12-09-2021

Condo Apt

2

3

Sw

Open

2

2928

65 St Mary St

$1,480,000

12-08-2021

Condo Apt

2

2

Nw

Open

1

892

68 Yorkville Ave

$6,025,000

12-08-2021

Condo Apt

3

4

Nw

Terr

3

3750

170 Avenue Rd

$803,000

12-07-2021

Condo Apt

1

1

N

Jlte

1

605

188 Cumberland St

$742,500

12-07-2021

Condo Apt

1

1

1

E

None

0

505

1080 Bay St

$1,032,000

12-06-2021

Condo Apt

1

1

1

S

Open

1

611

1 Bloor St West

$7,662,593

12-06-2021

Condo Apt

3

1

3

Sw

None

0

2468

1080 Bay St

$555,000

12-05-2021

Condo Apt

0

1

W

Open

0

325

35 Balmuto St

$905,000

12-05-2021

Condo Apt

2

2

Sw

Open

1

853

155 Yorkville Ave

$850,000

12-04-2021

Condo Apt

2

2

S

None

0

750

35 Balmuto St

$796,868

12-03-2021

Condo Apt

2

2

E

Open

1

712

1 Bloor St East

$1,208,000

12-03-2021

Condo Apt

2

2

W

Open

1

829

825 Church St

$770,000

12-02-2021

Condo Apt

1

1

1

S

Open

1

643

18 Yorkville Ave

$1,175,000

12-02-2021

Condo Apt

2

2

Nw

Open

1

803

32 Davenport Rd

$1,050,000

12-02-2021

Condo Apt

2

2

Se

Open

1

825

35 Balmuto St

$1,400,000

12-02-2021

Condo Apt

2

1

3

Nw

Open

1

1316

8 Scollard St

$749,000

12-01-2021

Condo Apt

1

1

2

Se

Open

1

734

825 Church St

$830,000

11-30-2021

Condo Apt

1

1

1

Ne

Open

0

682

35 Balmuto St

$742,000

11-29-2021

Condo Apt

1

1

2

Ne

Open

0

828

825 Church St

$977,000

11-28-2021

Condo Apt

2

2

Ne

Open

1

903

35 Balmuto St

$952,000

11-26-2021

Condo Apt

2

2

Se

Open

1

952

1 Yorkville Ave

$721,000

11-25-2021

Condo Apt

1

1

Sw

Open

0

475

170 Avenue Rd

$1,400,000

11-25-2021

Condo Apt

2

2

N

Open

1

953

1 Bloor St East

$1,888,000

11-25-2021

Condo Apt

2

1

3

S

Open

1

1052

1166 Bay St

$2,600,000

11-25-2021

Condo Apt

2

2

W

None

2

2194

110 Bloor St West

$2,155,425

11-25-2021

Condo Apt

2

2

N

None

1

1950

1 St Thomas St

$7,800,000

11-23-2021

Condo Apt

2

3

S

Terr

2

3681

38 Avenue Rd

$2,050,000

11-22-2021

Condo Apt

1

1

2

Ew

Open

1

1660

1 Yorkville Ave

$963,000

11-19-2021

Condo Apt

2

2

Sw

Open

0

688

77 Avenue Rd

$2,900,000

11-19-2021

Condo Apt

2

2

3

Sw

None

2

2775

1 Yorkville Ave

$1,075,000

11-16-2021

Condo Apt

2

2

Sw

Open

1

688

1 Yorkville Ave

$1,018,000

11-14-2021

Condo Apt

2

2

Ne

Open

0

688

40 Scollard St

$630,000

11-13-2021

Condo Apt

1

1

1

S

None

0

645

1 Bloor St East

$1,490,000

11-13-2021

Condo Apt

2

3

Ne

Open

1

1046

155 Yorkville Ave

$560,000

11-12-2021

Condo Apt

1

1

Sw

None

0

405

88 Cumberland St

$1,340,000

11-12-2021

Condo Apt

2

2

Sw

Terr

1

875

80 Yorkville Ave

$1,461,500

11-10-2021

Condo Apt

1

1

W

Open

1

795

133 Hazelton Ave

$3,000,000

11-10-2021

Condo Apt

2

3

Se

Terr

2

1464

188 Cumberland St

$725,000

11-09-2021

Condo Apt

1

1

1

W

None

0

505

15 Mcmurrich St

$1,175,000

11-09-2021

Condo Apt

2

2

Sw

None

1

1333

1 Bloor St East

$2,518,000

11-09-2021

Condo Apt

2

1

3

Sw

Open

2

1424

825 Church St

$1,654,900

11-08-2021

Townhouse

3

1

3

S

Terr

1

1461

50 Yorkville Ave

$6,250,000

11-08-2021

Condo Apt

2

1

3

Se

Open

2

2466

200 Bloor St West

$710,000

11-07-2021

Condo Apt

1

1

N

Open

0

538

1 Yorkville Ave

$1,025,000

11-07-2021

Condo Apt

2

2

Se

Open

1

688

825 Church St

$750,000

11-06-2021

Condo Apt

1

1

1

S

Open

0

652

32 Davenport Rd

$860,000

11-06-2021

Condo Apt

1

1

1

Nw

Open

0

715

68 Yorkville Ave

$1,675,000

11-06-2021

Condo Apt

2

2

E

Open

2

1214

155 Yorkville Ave

$585,000

11-05-2021

Condo Apt

1

1

S

None

0

440

170 Avenue Rd

$1,089,000

11-05-2021

Condo Apt

2

2

Nw

Open

1

864

188 Cumberland St

$1,267,180

11-04-2021

Condo Apt

2

1

2

Sw

Jlte

1

840

188 Cumberland St

$1,275,000

11-04-2021

Condo Apt

2

1

2

Sw

Jlte

1

840

32 Davenport Rd

$1,758,000

11-04-2021

Condo Apt

2

1

2

E

Open

2

1361

40 Scollard St

$630,000

11-03-2021

Condo Apt

1

1

S

None

0

645

1 Bloor St East

$1,635,000

11-03-2021

Condo Apt

2

3

Sw

Open

1

1052

102 Bloor St West

$835,000

11-02-2021

Condo Apt

1

1

N

None

1

864

155 Yorkville Ave

$840,000

11-02-2021

Condo Apt

2

2

S

None

0

750

170 Avenue Rd

$1,685,000

11-01-2021

Condo Apt

2

3

Se

Open

1

1336

206 Bloor St West

$4,975,000

11-01-2021

Condo Apt

3

3

S

Terr

2

2540

55 Scollard St

$2,300,000

10-29-2021

Condo Apt

2

2

Sw

Terr

2

1265

1 Bedford Rd

$3,250,000

10-28-2021

Condo Apt

2

3

Sw

Open

1

1521

200 Bloor St West

$938,000

10-27-2021

Condo Apt

1

1

2

N

Open

0

702

1 Bloor St East

$1,270,000

10-27-2021

Condo Apt

2

2

Sw

Open

1

829

1 Bedford Rd

$3,000,000

10-27-2021

Condo Apt

2

1

3

Ne

Open

1

1664

65 St Mary St

$3,625,000

10-27-2021

Townhome

3

4

Ns

Terr

2

3228

1 Bloor St East

$1,370,000

10-26-2021

Condo Apt

2

2

Se

Open

1

792

68 Yorkville Ave

$900,000

10-25-2021

Condo Apt

1

1

N

Open

1

521

18 Yorkville Ave

$1,025,000

10-25-2021

Condo Apt

1

1

2

E

Open

1

713

8 Scollard St

$800,000

10-22-2021

Condo Apt

1

1

2

S

Jlte

1

700

18 Yorkville Ave

$875,000

10-22-2021

Condo Apt

1

1

1

E

Open

1

701

980 Yonge St

$980,000

10-22-2021

Condo Apt

2

2

Se

Open

1

1135

825 Church St

$1,589,900

10-22-2021

Townhome

2

1

3

Ne

Terr

1

1386

155 Yorkville Ave

$613,000

10-21-2021

Condo Apt

1

1

1

N

None

0

500

65 St Mary St

$1,460,000

10-21-2021

Condo Apt

2

2

Sw

Open

1

892

68 Yorkville Ave

$2,050,000

10-21-2021

Condo Apt

2

1

2

Se

Terr

2

1447

825 Church St

$905,000

10-20-2021

Condo Apt

2

2

W

Open

1

777

1 Yorkville Ave

$1,270,000

10-20-2021

Condo Apt

3

2

Nw

Open

1

797

32 Davenport Rd

$894,500

10-19-2021

Condo Apt

1

1

1

Nw

Open

0

715

1 Bloor St East

$1,068,000

10-19-2021

Condo Apt

1

1

2

W

Open

1

719

80 Cumberland St

$1,185,000

10-19-2021

Condo Apt

2

3

Nw

Open

1

966

15 Mcmurrich St

$1,248,000

10-19-2021

Condo Apt

2

1

2

Nw

Open

1

1619

32 Davenport Rd

$2,362,000

10-19-2021

Condo Apt

3

1

4

E

None

2

2400

8 Scollard St

$525,000

10-18-2021

Condo Apt

0

1

N

Open

1

497

1 Yorkville Ave

$935,000

10-17-2021

Condo Apt

2

2

Sw

Open

0

688

155 Yorkville Ave

$702,000

10-15-2021

Condo Apt

1

1

1

Se

None

0

580

88 Cumberland St

$1,300,000

10-15-2021

Condo Apt

2

2

S

Open

1

795

4 Lowther Ave

$2,022,000

10-15-2021

Condo Apt

1

1

2

E

None

1

1695

155 Yorkville Ave

$579,000

10-14-2021

Condo Apt

1

1

S

None

0

540

1 Bedford Rd

$900,000

10-14-2021

Condo Apt

1

1

N

Open

1

597

170 Avenue Rd

$990,000

10-13-2021

Condo Apt

2

2

S

Open

1

840

1121 Bay St

$632,000

10-12-2021

Condo Apt

2

1

Se

None

0

645

88 Cumberland St

$857,000

10-12-2021

Condo Apt

1

1

1

S

Open

0

612

155 Yorkville Ave

$675,000

10-11-2021

Condo Apt

1

1

1

Nw

None

0

580

38 Avenue Rd

$1,500,000

10-11-2021

Condo Apt

1

1

2

E

Jlte

1

1170

77 Avenue Rd

$1,650,000

10-09-2021

Condo Apt

2

1

3

Se

Open

1

1895

155 Yorkville Ave

$545,000

10-08-2021

Condo Apt

1

1

Sw

None

0

405

155 Yorkville Ave

$570,000

10-08-2021

Condo Apt

1

1

S

None

0

440

55 Prince Arthur Ave

$3,500,000

10-08-2021

Townhouse

2

1

3

N

Terr

2

2749

65 St Mary St

$3,820,000

10-08-2021

Townhouse

3

4

Se

Terr

2

2968

40 Scollard St

$703,000

10-07-2021

Condo Apt

1

1

1

N

None

1

645

1 Bloor St East

$928,000

10-07-2021

Condo Apt

2

2

W

Open

0

806

3 Mcalpine St

$1,400,000

10-07-2021

Condo Apt

2

3

Ne

Terr

2

2256

38 Avenue Rd

$3,150,000

10-07-2021

Condo Apt

2

1

3

Ew

Open

2

2090

1 Bloor St East

$1,030,000

10-06-2021

Condo Apt

1

1

2

N

Open

0

744

1121 Bay St

$899,000

10-05-2021

Condo Apt

2

2

E

Open

1

955

1 Bloor St East

$910,000

10-05-2021

Condo Apt

1

1

1

S

Open

0

607

35 Balmuto St

$1,552,400

10-05-2021

Condo Apt

3

2

Sw

Open

1

1316

10 Bellair St

$1,810,000

10-05-2021

Condo Apt

2

1

2

S

Open

1

1504

825 Church St

$708,500

10-04-2021

Condo Apt

1

1

1

S

Open

0

660

1 Yorkville Ave

$939,900

10-03-2021

Condo Apt

1

1

2

Ne

Open

0

688

1 Bloor St East

$1,380,000

10-03-2021

Condo Apt

2

1

2

W

Open

1

899

1 Bedford Rd

$4,550,000

10-02-2021

Condo Apt

2

1

3

Se

Open

2

2091

8 Scollard St

$510,000

10-01-2021

Condo Apt

0

1

1

W

Terr

0

485

1080 Bay St

$890,000

10-01-2021

Condo Apt

1

1

Nw

Terr

0

512

1 Yorkville Ave

$950,000

10-01-2021

Condo Apt

2

2

Sw

Open

0

688

77 Charles St West

$2,575,000

10-01-2021

Condo Apt

2

2

Nw

Terr

2

1569

1 Bloor St East

$910,000

09-30-2021

Condo Apt

1

1

1

N

Open

0

612

88 Davenport Rd

$3,200,000

09-30-2021

Condo Apt

2

1

3

Ne

Open

2

1949

155 Yorkville Ave

$551,000

09-29-2021

Condo Apt

1

1

N

None

0

405

155 Yorkville Ave

$682,000

09-28-2021

Condo Apt

1

1

1

Nw

None

0

610

1 Bedford Rd

$1,280,000

09-28-2021

Condo Apt

2

2

N

Open

1

849

170 Avenue Rd

$770,000

09-27-2021

Condo Apt

1

1

N

Jlte

0

605

1 Bloor St East

$1,850,000

09-27-2021

Condo Apt

2

1

2

E

Open

2

1065

110 Bloor St West

$962,500

09-25-2021

Condo Apt

1

1

1

S

None

1

1100

88 Cumberland St

$715,000

09-24-2021

Condo Apt

1

1

E

Terr

0

441

35 Balmuto St

$850,000

09-24-2021

Condo Apt

2

2

Sw

Open

1

853

1 Yorkville Ave

$865,000

09-24-2021

Condo Apt

1

1

1

W

Open

0

577

825 Church St

$895,000

09-24-2021

Condo Apt

2

2

Sw

Terr

1

910

825 Church St

$725,000

09-23-2021

Condo Apt

1

1

1

Ne

Open

0

682

155 Yorkville Ave

$485,000

09-22-2021

Condo Apt

0

1

Sw

None

0

370

55 Prince Arthur Ave

$3,430,000

09-22-2021

Condo Apt

3

4

Se

Open

2

2575

155 Yorkville Ave

$575,000

09-21-2021

Condo Apt

1

1

Sw

None

0

405

102 Bloor St West

$670,000

09-21-2021

Condo Apt

1

1

E

Open

0

680

170 Avenue Rd

$1,340,000

09-21-2021

Condo Apt

2

2

S

Open

1

1020

32 Davenport Rd

$1,115,000

09-20-2021

Condo Apt

2

2

E

Open

1

931

38 Avenue Rd

$6,880,000

09-20-2021

Condo Apt

3

1

4

N

Terr

4

3559

188 Cumberland St

$688,000

09-19-2021

Condo Apt

1

1

S

None

0

405

188 Cumberland St

$800,000

09-17-2021

Condo Apt

1

1

1

S

None

0

555

200 Bloor St West

$1,410,000

09-17-2021

Condo Apt

2

2

Nw

Open

1

886

38 Avenue Rd

$3,090,000

09-17-2021

Condo Apt

2

1

3

Nw

Terr

2

2280

55 Scollard St

$3,932,500

09-17-2021

Condo Apt

2

1

3

Se

Terr

2

1815

8 Scollard St

$675,000

09-16-2021

Condo Apt

1

1

1

Ne

Open

0

630

825 Church St

$971,000

09-16-2021

Condo Apt

2

2

Sw

Open

1

879

170 Avenue Rd

$1,220,000

09-16-2021

Condo Apt

1

2

N

Open

1

953

1 Yorkville Ave

$1,160,000

09-13-2021

Condo Apt

2

2

Se

Open

1

688

55A Avenue Rd

$1,750,000

09-13-2021

Condo Apt

2

2

W

Terr

2

1660

35 Balmuto St

$765,000

09-12-2021

Condo Apt

1

1

1

W

Open

0

715

155 Yorkville Ave

$790,000

09-12-2021

Condo Apt

2

2

Sw

None

0

750

200 Bloor St West

$1,040,200

09-12-2021

Condo Apt

2

2

Sw

Open

1

952

80 Cumberland St

$1,075,000

09-12-2021

Condo Apt

2

2

Se

Terr

1

1019

88 Cumberland St

$1,550,000

09-12-2021

Condo Apt

2

3

Sw

Open

0

1055

181 Davenport Rd

$930,000

09-11-2021

Condo Apt

1

1

1

N

Open

1

624

825 Church St

$704,900

09-10-2021

Condo Apt

1

1

S

Open

0

704

825 Church St

$704,900

09-10-2021

Condo Apt

1

1

S

Open

0

704

1 Bloor St East

$1,569,000

09-09-2021

Condo Apt

2

2

Nw

Open

1

1038

1 Bloor St East

$1,252,000

09-08-2021

Condo Apt

2

2

W

Open

1

829

80 Cumberland St

$1,300,000

09-08-2021

Condo Apt

2

3

S

Encl

1

1092

200 Bloor St West

$1,410,000

09-07-2021

Condo Apt

2

2

Sw

Terr

1

912

155 Yorkville Ave

$1,300,100

09-06-2021

Condo Apt

2

2

Sw

None

1

1015

32 Davenport Rd

$980,000

09-05-2021

Condo Apt

2

2

Sw

Open

1

825

1 Yorkville Ave

$950,000

09-04-2021

Condo Apt

2

2

Sw

Open

0

688

55 Prince Arthur Ave

$1,875,000

09-04-2021

Condo Apt

2

1

3

Ne

None

2

2073

10 Bellair St

$2,875,000

09-04-2021

Condo Apt

3

3

Ne

Open

2

2249

1 Bloor St West

$3,450,000

09-04-2021

Condo Apt

2

1

2

Sw

None

0

1495

155 Yorkville Ave

$550,000

09-03-2021

Condo Apt

1

1

S

None

0

440

1 Bedford Rd

$838,000

09-03-2021

Condo Apt

1

1

1

W

Open

1

631

155 Yorkville Ave

$545,000

09-02-2021

Condo Apt

1

1

W

None

0

405

155 Yorkville Ave

$545,000

09-02-2021

Condo Apt

1

1

Sw

None

0

405

40 Scollard St

$685,000

09-01-2021

Condo Apt

1

1

1

S

None

1

645

200 Bloor St West

$740,000

09-01-2021

Condo Apt

1

1

1

N

Open

0

506

155 Yorkville Ave

$490,000

08-31-2021

Condo Apt

0

1

N

None

0

370

18 Yorkville Ave

$1,600,000

08-31-2021

Condo Apt

2

2

Sw

Open

1

1242

1 Yorkville Ave

$683,000

08-29-2021

Condo Apt

1

1

N

Open

0

451

1 Bloor St East

$878,000

08-28-2021

Condo Apt

1

1

E

Open

0

530

80 Yorkville Ave

$1,355,000

08-28-2021

Condo Apt

1

1

E

Open

1

732

40 Scollard St

$630,000

08-26-2021

Condo Apt

1

1

S

None

0

645

1 Yorkville Ave

$1,150,000

08-26-2021

Condo Apt

2

2

Sw

Open

1

688

32 Davenport Rd

$970,000

08-24-2021

Condo Apt

2

2

E

Open

1

801

35 Balmuto St

$880,000

08-23-2021

Condo Apt

2

1

2

S

Open

1

905

170 Avenue Rd

$4,550,000

08-23-2021

Condo Apt

3

1

4

Se

Terr

2

2745

18 Yorkville Ave

$753,000

08-22-2021

Condo Apt

1

1

1

W

Open

1

622

3 Mcalpine St

$1,200,000

08-20-2021

Condo Apt

2

3

N

Open

1

1431

15 Mcmurrich St

$1,293,000

08-19-2021

Condo Apt

2

2

E

None

1

1523

1166 Bay St

$1,960,000

08-19-2021

Condo Apt

2

1

2

Se

None

1

2194

32 Davenport Rd

$1,625,000

08-18-2021

Condo Apt

2

1

2

Se

Open

2

1413

32 Davenport Rd

$1,780,000

08-16-2021

Condo Apt

2

1

2

Se

Open

2

1413

35 Balmuto St

$836,000

08-13-2021

Condo Apt

2

2

N

Open

1

828

102 Bloor St West

$720,000

08-11-2021

Condo Apt

1

1

N

None

0

680

200 Bloor St West

$1,480,000

08-09-2021

Condo Apt

2

2

S

Terr

1

880

88 Cumberland St

$742,000

08-08-2021

Condo Apt

1

1

W

Open

0

452

1 Bloor St East

$1,041,000

08-07-2021

Condo Apt

1

1

2

N

Open

0

744

88 Davenport Rd

$3,750,000

08-06-2021

Condo Apt

2

3

Nw

Terr

2

2197

36 Hazelton Ave

$3,900,000

08-06-2021

Condo Apt

2

3

E

Terr

2

2700

35 Balmuto St

$775,000

08-04-2021

Condo Apt

1

1

1

W

Open

0

715

1 Bloor St East

$1,595,000

08-04-2021

Condo Apt

2

1

3

Sw

Open

1

1052

55A Avenue Rd

$1,388,000

08-04-2021

Condo Apt

2

1

3

E

Terr

1

1902

188 Cumberland St

$641,000

08-03-2021

Condo Apt

1

1

N

None

1

385

825 Church St

$805,000

08-03-2021

Condo Apt

1

1

1

S

Open

1

643

1 Yorkville Ave

$1,480,000

08-02-2021

Condo Apt

2

1

2

E

Open

1

1031

1 Yorkville Ave

$808,000

07-31-2021

Condo Apt

1

1

1

N

Open

0

549

1 Yorkville Ave

$860,000

07-31-2021

Condo Apt

1

1

1

E

Open

0

556

1 Bloor St East

$1,228,000

07-31-2021

Condo Apt

2

2

W

Open

1

829

980 Yonge St

$535,000

07-30-2021

Condo Apt

1

1

S

Open

0

715

155 Yorkville Ave

$795,000

07-30-2021

Condo Apt

2

2

S

None

0

750

200 Bloor St West

$1,015,000

07-30-2021

Condo Apt

1

1

1

S

Open

1

698

99 Avenue Rd

$890,000

07-29-2021

Condo Apt

1

1

2

W

Open

1

714

155 Yorkville Ave

$885,000

07-29-2021

Condo Apt

2

2

N

None

1

750

32 Davenport Rd

$920,000

07-29-2021

Condo Apt

2

2

Sw

Open

1

825

40 Scollard St

$525,000

07-27-2021

Condo Apt

1

1

S

None

1

645

15 Mcmurrich St

$1,210,000

07-27-2021

Condo Apt

2

2

Ne

Open

1

1620

155 Yorkville Ave

$650,000

07-26-2021

Condo Apt

1

1

1

N

None

0

550

155 Yorkville Ave

$543,000

07-24-2021

Condo Apt

1

1

W

None

0

405

1 Bloor St East

$1,205,000

07-23-2021

Condo Apt

2

2

W

Open

1

829

32 Davenport Rd

$1,005,000

07-22-2021

Condo Apt

2

2

E

Terr

1

766

1166 Bay St

$1,750,000

07-22-2021

Condo Apt

2

2

Ew

None

1

2005

155 Yorkville Ave

$490,000

07-21-2021

Condo Apt

0

1

N

None

0

370

1 Bedford Rd

$875,000

07-21-2021

Condo Apt

1

1

N

Terr

1

658

188 Cumberland St

$739,000

07-20-2021

Condo Apt

1

1

1

W

None

0

505

21 Scollard St

$1,145,000

07-18-2021

Condo Apt

2

2

Ne

Open

2

1068

155 Yorkville Ave

$645,000

07-17-2021

Condo Apt

1

1

1

N

None

0

500

155 Yorkville Ave

$525,000

07-16-2021

Condo Apt

1

1

E

None

0

405

80 Yorkville Ave

$1,418,000

07-15-2021

Condo Apt

1

1

W

Open

1

795

55 Scollard St

$2,625,000

07-13-2021

Condo Apt

2

3

Nw

Open

1

1578

50 Yorkville Ave

$4,280,000

07-12-2021

Condo Apt

2

3

Ne

Open

2

1956

50 Yorkville Ave

$6,225,000

07-12-2021

Condo Apt

2

1

3

Se

Open

2

2466

35 Balmuto St

$600,088

07-09-2021

Condo Apt

1

1

N

Open

0

495

21 Balmuto St

$838,000

07-09-2021

Condo Apt

2

2

Ne

Terr

1

760

18 Yorkville Ave

$2,700,000

07-08-2021

Condo Apt

2

1

3

Se

Open

2

1969

88 Cumberland St

$738,000

07-07-2021

Condo Apt

1

1

W

Open

0

473

980 Yonge St

$640,000

07-06-2021

Condo Apt

1

1

1

W

None

1

780

35 Balmuto St

$877,000

07-06-2021

Condo Apt

2

2

Sw

None

1

853

77 Mcmurrich St

$1,500,000

07-05-2021

Condo Apt

2

1

2

Sw

Terr

2

1312

155 Cumberland St

$10,850,000

07-04-2021

Condo Apt

2

1

3

N

Terr

2

4728

21 Scollard St

$689,000

07-03-2021

Condo Apt

1

1

1

S

Open

0

623

10 Bellair St

$2,135,000

07-02-2021

Condo Apt

2

1

3

Nw

Open

2

1783

1 Bedford Rd

$2,600,000

07-02-2021

Condo Apt

2

2

Ne

Terr

2

1662

32 Davenport Rd

$545,000

07-01-2021

Condo Apt

0

1

S

Open

0

579

155 Yorkville Ave

$545,000

06-30-2021

Condo Apt

1

1

S

None

0

430

155 Yorkville Ave

$533,000

06-29-2021

Condo Apt

1

1

S

None

0

440

155 Yorkville Ave

$555,000

06-29-2021

Condo Apt

1

1

S

None

0

430

88 Cumberland St

$1,300,000

06-29-2021

Condo Apt

2

2

Sw

Open

1

868

1 Bloor St East

$1,438,000

06-29-2021

Condo Apt

2

1

3

Ne

Terr

1

1046

21 Balmuto St

$670,000

06-28-2021

Condo Apt

1

1

W

Open

0

536

1 Yorkville Ave

$795,000

06-28-2021

Condo Apt

1

1

2

S

Open

0

557

1 Bloor St East

$1,041,800

06-27-2021

Condo Apt

1

1

2

W

Open

1

719

80 Yorkville Ave

$2,700,000

06-22-2021

Condo Apt

2

3

Se

Open

1

1450

88 Davenport Rd

$3,500,000

06-22-2021

Condo Apt

2

1

3

Nw

Open

2

2197

155 Yorkville Ave

$680,000

06-21-2021

Condo Apt

1

1

1

Ne

None

0

610

175 Cumberland St

$1,471,000

06-21-2021

Condo Apt

1

2

Nw

None

0

1338

155 Yorkville Ave

$640,000

06-20-2021

Condo Apt

1

1

1

Ne

None

0

580

1 Bloor St East

$863,000

06-19-2021

Condo Apt

1

1

1

S

Open

0

612

155 Yorkville Ave

$615,000

06-18-2021

Condo Apt

1

1

N

None

0

405

80 Cumberland St

$1,285,000

06-18-2021

Condo Apt

2

2

Se

Open

0

1092

155 Yorkville Ave

$702,000

06-17-2021

Condo Apt

1

1

1

Nw

None

0

610

1 Bloor St East

$1,591,000

06-17-2021

Condo Apt

2

1

3

Sw

Open

1

1052

77 Avenue Rd

$6,750,000

06-17-2021

Condo Apt

3

5

Se

Terr

4

3701

155 Yorkville Ave

$700,000

06-16-2021

Condo Apt

1

1

1

Nw

None

0

610

200 Bloor St West

$865,000

06-16-2021

Condo Apt

1

1

2

N

Open

0

702

170 Avenue Rd

$707,000

06-15-2021

Condo Apt

1

1

W

None

1

486

77 Mcmurrich St

$814,000

06-14-2021

Condo Apt

1

1

2

N

Terr

1

792

155 Yorkville Ave

$613,000

06-13-2021

Condo Apt

1

1

1

N

None

0

500

1 Yorkville Ave

$895,000

06-11-2021

Condo Apt

2

2

Sw

Open

0

688

55 Scollard St

$3,536,000

06-11-2021

Condo Apt

2

1

3

Se

Open

2

1815

8 Scollard St

$696,000

06-10-2021

Condo Apt

1

1

2

S

Open

1

637

980 Yonge St

$667,000

06-08-2021

Condo Apt

1

2

Nw

Open

0

695

200 Bloor St West

$829,900

06-08-2021

Condo Apt

1

1

S

Open

1

565

1 Bloor St East

$856,000

06-08-2021

Condo Apt

1

1

1

N

None

0

612

15 Mcmurrich St

$1,625,000

06-08-2021

Condo Apt

2

2

Ne

Open

2

1620

80 Yorkville Ave

$2,750,000

06-08-2021

Condo Apt

2

3

Se

Open

2

1450

155 Yorkville Ave

$670,000

06-07-2021

Condo Apt

1

1

1

Ne

None

0

610

35 Balmuto St

$818,000

06-06-2021

Condo Apt

2

2

E

Open

1

715

900 Yonge St

$999,000

06-06-2021

Condo Apt

2

2

W

None

1

1470

1 Yorkville Ave

$1,150,000

06-05-2021

Condo Apt

3

2

Nw

Open

1

797

155 Yorkville Ave

$471,000

06-02-2021

Condo Apt

0

1

S

None

0

370

38 Avenue Rd

$2,850,000

06-02-2021

Townhouse

2

3

Se

Terr

1

2410

181 Davenport Rd

$985,000

06-01-2021

Condo Apt

1

1

2

N

None

1

795

77 Mcmurrich St

$1,400,000

06-01-2021

Condo Apt

2

2

W

Open

2

1005

1 Bloor St East

$1,480,000

06-01-2021

Condo Apt

2

3

Ne

Open

1

1046

55 Scollard St

$2,580,000

06-01-2021

Condo Apt

2

3

Ne

Open

1

1485

155 Yorkville Ave

$560,000

05-31-2021

Condo Apt

1

1

E

None

0

405

21 Balmuto St

$650,000

05-31-2021

Condo Apt

1

1

W

Open

0

536

18 Yorkville Ave

$715,000

05-31-2021

Condo Apt

1

1

1

E

Open

1

616

32 Davenport Rd

$965,000

05-31-2021

Condo Apt

2

2

Sw

Open

1

825

18 Yorkville Ave

$850,000

05-29-2021

Condo Apt

1

1

2

W

Open

1

713

155 Yorkville Ave

$492,500

05-27-2021

Condo Apt

0

1

N

None

0

370

18 Yorkville Ave

$688,000

05-26-2021

Condo Apt

1

1

1

E

Open

1

622

1 Bloor St East

$860,000

05-26-2021

Condo Apt

1

1

2

S

Open

0

740

1331 Bay St

$1,070,000

05-25-2021

Condo Apt

2

2

S

Open

1

1242

8 Sultan St

$1,600,000

05-25-2021

Condo Apt

2

2

W

Open

1

1456

35 Balmuto St

$658,000

05-23-2021

Condo Apt

1

1

N

Open

1

495

1 Bloor St East

$1,312,000

05-22-2021

Condo Apt

2

1

3

Se

Open

1

1344

21 Scollard St

$705,000

05-18-2021

Condo Apt

1

1

1

E

Open

0

610

55 Scollard St

$3,640,000

05-17-2021

Condo Apt

2

1

3

Se

Open

1

1815

1166 Bay St

$1,935,000

05-16-2021

Condo Apt

2

1

2

Ew

None

1

2005

1 Yorkville Ave

$915,000

05-14-2021

Condo Apt

2

2

Sw

Open

0

688

155 Yorkville Ave

$899,990

05-14-2021

Condo Apt

2

2

N

None

1

750

1 Yorkville Ave

$625,000

05-12-2021

Condo Apt

1

1

W

Open

0

475

35 Balmuto St

$842,000

05-12-2021

Condo Apt

2

2

N

Open

1

828

1 Bedford Rd

$831,000

05-11-2021

Condo Apt

1

1

N

Open

1

652

21 Balmuto St

$945,180

05-11-2021

Condo Apt

2

2

Ne

Open

1

760

980 Yonge St

$1,100,000

05-10-2021

Condo Apt

2

2

Sw

Open

1

1134

1 Bloor St East

$1,600,000

05-03-2021

Condo Apt

2

2

S

Open

1

1033

1 Bloor St East

$1,828,000

05-03-2021

Condo Apt

1

1

2

Se

Open

2

1033

1 Bloor St East

$1,133,000

05-02-2021

Condo Apt

2

2

Se

Open

0

792

155 Yorkville Ave

$545,000

04-29-2021

Condo Apt

1

1

Sw

None

0

405

55A Avenue Rd

$815,000

04-29-2021

Condo Apt

1

1

W

Terr

0

881

21 Scollard St

$750,000

04-26-2021

Condo Apt

1

1

S

Open

1

623

88 Cumberland St

$1,338,000

04-26-2021

Condo Apt

2

2

Sw

Open

1

875

1 Bloor St East

$2,220,000

04-26-2021

Condo Apt

2

1

3

Sw

Open

1

1727

35 Balmuto St

$1,730,000

04-25-2021

Condo Apt

2

3

Sw

Open

1

1270

8 Scollard St

$661,000

04-24-2021

Condo Apt

1

1

1

N

Open

0

600

10 Bellair St

$975,000

04-23-2021

Condo Apt

1

1

1

E

Jlte

1

945

102 Bloor St West

$660,000

04-20-2021

Condo Apt

1

1

S

None

0

680

1080 Bay St

$3,100,000

04-19-2021

Townhouse

3

1

4

Se

Terr

2

2909

18 Yorkville Ave

$675,500

04-19-2021

Condo Apt

1

1

1

E

Open

0

751

1 Bedford Rd

$3,300,000

04-19-2021

Condo Apt

2

3

Sw

Open

1

1521

50 Yorkville Ave

$4,280,000

04-16-2021

Condo Apt

2

3

Ne

Open

2

1956

188 Cumberland St

$570,000

04-15-2021

Condo Apt

1

1

N

None

0

385

1 Bloor St East

$839,000

04-15-2021

Condo Apt

1

1

1

S

Open

0

607

980 Yonge St

$620,000

04-14-2021

Condo Apt

1

1

S

None

0

760

1 Bloor St East

$1,253,800

04-14-2021

Condo Apt

2

2

Se

Open

1

792

110 Bloor St West

$3,550,000

04-14-2021

Condo Apt

2

3

Ns

Terr

2

1950

21 Scollard St

$703,000

04-13-2021

Condo Apt

1

1

1

S

Open

0

623

151 Avenue Rd

$930,000

04-13-2021

Condo Apt

1

1

1

W

Open

1

733

10 Bellair St

$2,800,000

04-12-2021

Condo Apt

2

1

3

Nw

Jlte

2

2484

35 Balmuto St

$621,500

04-10-2021

Condo Apt

1

1

S

Open

0

568

21 Scollard St

$780,000

04-09-2021

Condo Apt

1

1

1

N

Terr

1

651

1 Yorkville Ave

$610,000

04-08-2021

Condo Apt

1

1

N

Open

0

451

188 Cumberland St

$1,042,000

04-08-2021

Condo Apt

2

1

2

Se

Jlte

0

855

170 Avenue Rd

$1,290,000

04-08-2021

Condo Apt

2

2

S

Open

1

1004

1 Bloor St East

$880,000

04-07-2021

Condo Apt

1

1

1

N

Open

1

607

18 Yorkville Ave

$1,119,000

04-07-2021

Condo Apt

2

2

Ne

Open

1

805

1 Bloor St East

$1,500,000

04-06-2021

Condo Apt

2

1

3

Sw

Open

1

1052

980 Yonge St

$899,000

04-05-2021

Condo Apt

1

1

W

Open

1

925

35 Balmuto St

$868,000

04-02-2021

Condo Apt

2

2

Ne

Open

1

843

1 Bloor St East

$1,135,000

04-02-2021

Condo Apt

1

1

2

S

Terr

1

744

188 Cumberland St

$550,000

04-01-2021

Condo Apt

1

1

Nw

None

0

385

200 Bloor St West

$710,000

04-01-2021

Condo Apt

1

1

N

Open

0

529

170 Avenue Rd

$1,900,000

03-31-2021

Condo Apt

2

3

Se

Terr

1

1336

1166 Bay St

$2,140,000

03-31-2021

Condo Apt

2

1

2

W

None

2

2094

188 Cumberland St

$550,000

03-30-2021

Condo Apt

1

1

N

None

0

385

1 Bloor St East

$940,900

03-30-2021

Condo Apt

1

1

2

W

Open

0

719

1 Bloor St East

$868,800

03-30-2021

Condo Apt

1

1

2

W

Terr

0

719

200 Bloor St West

$945,500

03-30-2021

Condo Apt

1

1

2

N

Open

1

732

170 Avenue Rd

$950,000

03-30-2021

Condo Apt

2

2

Sw

Open

1

807

35 Balmuto St

$650,000

03-29-2021

Condo Apt

1

1

S

Open

0

568

980 Yonge St

$721,000

03-29-2021

Condo Apt

1

1

Nw

Open

1

695

1 Bloor St East

$910,000

03-26-2021

Condo Apt

1

1

2

Sw

Open

0

719

18 Yorkville Ave

$1,100,000

03-26-2021

Condo Apt

2

2

W

Open

1

821

10 Bellair St

$1,840,000

03-26-2021

Condo Apt

2

1

2

Sw

Open

1

1504

8 Scollard St

$583,600

03-25-2021

Condo Apt

1

1

N

Open

0

565

99 Avenue Rd

$1,200,000

03-23-2021

Condo Apt

1

1

2

Sw

Terr

1

1056

88 Cumberland St

$1,270,000

03-21-2021

Condo Apt

2

2

Se

Open

1

756

1 Bloor St East

$1,190,000

03-20-2021

Condo Apt

2

2

W

Open

1

829

80 Yorkville Ave

$1,912,000

03-20-2021

Condo Apt

2

2

Nw

Open

2

1345

155 Yorkville Ave

$670,000

03-19-2021

Condo Apt

1

1

1

Se

None

0

580

35 Balmuto St

$1,045,000

03-19-2021

Condo Apt

2

2

N

Open

1

1100

55 Scollard St

$3,400,000

03-19-2021

Condo Apt

2

1

3

Se

Open

1

1815

21 Balmuto St